Once you find long-tail keywords with low SEO difficulty you can expect immediate results right?
Unfortunately it is not that straightforward.
However, long-tail keywords are hidden gems in SEO.
First, they can drive qualified traffic to your website, and second, they can increase your conversion rates.
But first let's take a look at some stats.
According to Semrush, traffic at Keyword Hero has taken off recently.

This is in part because of a new long-tail keyword strategy we recently implemented.
In this article, I will go through some of the key principles and advantages of using long-tail keywords to tap into new search traffic potential.
But first I want to share some interesting research to help you understand what long-tail keywords are and why no keyword strategy is complete without them.
What are long-tail keywords?
Long-tail keywords are longer and more specific keyword phrases that visitors are more likely to use when they are close to making a purchase. They can be valuable to a business of any size if integrated into an SEO strategy.
Where does the name long-tail keyword come from?
The majority of Google searches are specific and unpopular (i.e., long-tail).
Or at the long-tail of the search curve.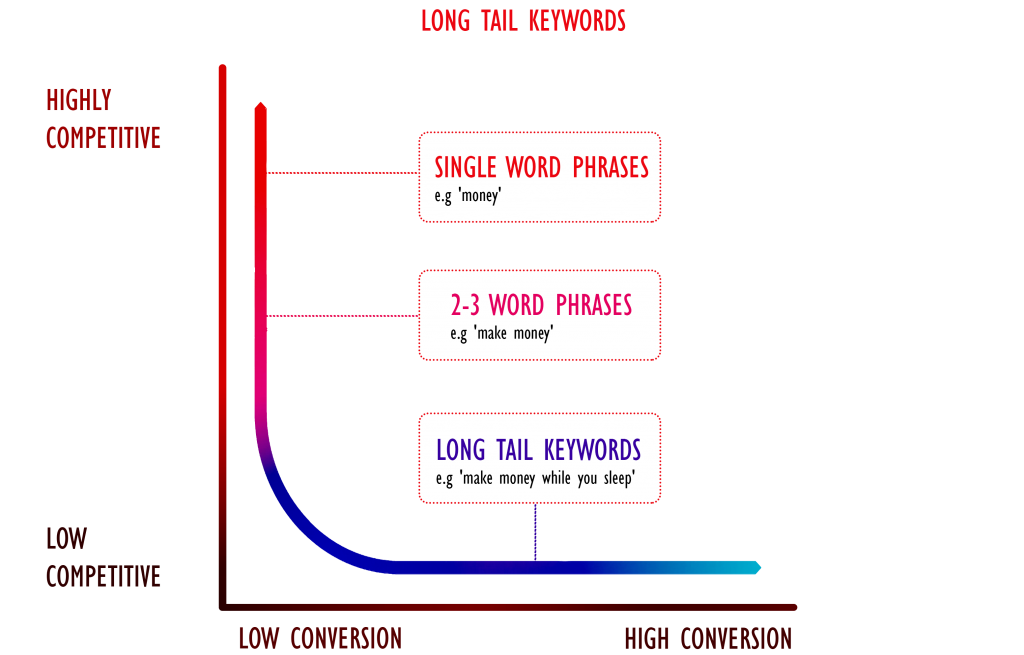 According to Ahrefs, 92.42% of all search terms get ten searches per month or fewer.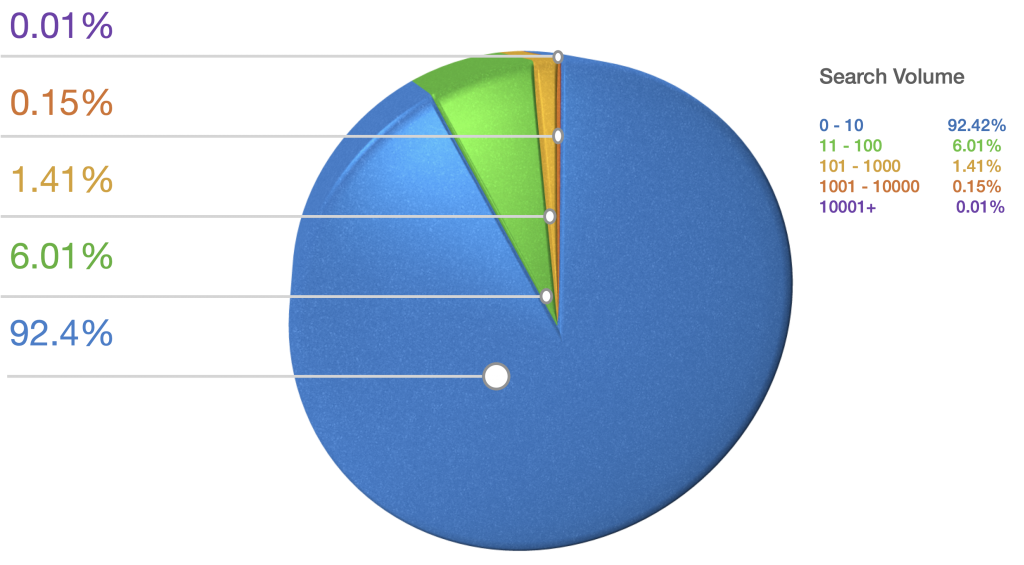 You can see how less popular keywords are called long-tail keywords.
It's because they fall on the long-tail side of the search demand curve.
Hence, 60% of all search demand comes from only 0.16% of the most popular keywords with search volumes of 1,001+.
Consequently, 39% of total search is from 99% of queries with less than one thousand searches per month: long-tail keywords.
Time for some myth-busting
There's a longstanding myth in SEO that shorter search queries have higher search volumes than longer ones.
Here's an example taken from Google Keyword Planner that disproves this assumption.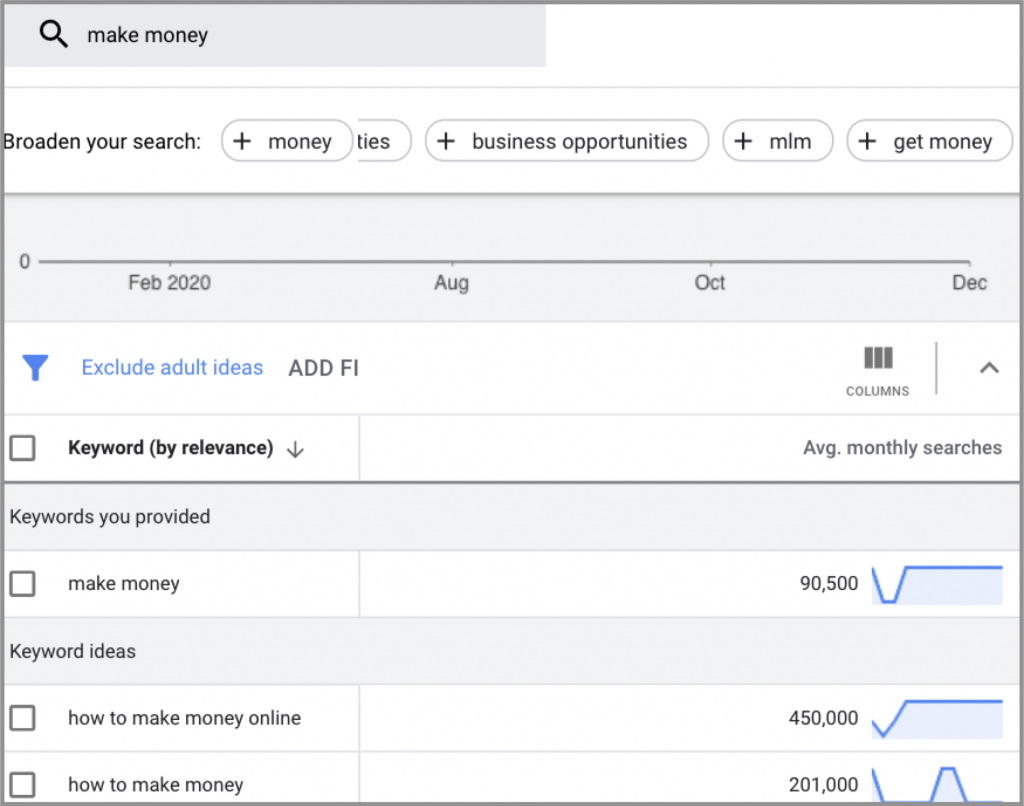 Key takeaway:
You can't and shouldn't try to determine keyword popularity by looking at the number of words in a query. Short search queries can be long-tail keywords, and long queries can be short-tail keywords.
Thus, be careful not to judge the search popularity of keywords by the number of words.
How do I find long-tail keywords with low SEO difficulty?
Hopefully by now, regardless of the size, domain rating, or age of your business, you understand that long-tail keywords are an essential pillar of your SEO content strategy.
The long-tail keywords you find could be used as the title and main topic for a highly targeted blog post or article.
Or you could use them as variations to better optimize a longer guide or article targeting one primary keyword. For example, by using long-tail keywords in your subheadings and alt texts. And if you're thinking of starting a targeted marketing campaign, long-tail keywords should be the backbone of your campaign.
Google Suggest
Google's suggestions are an inspired source for long-tail keywords. Simply type your focus keyword into Google and see what variations Google suggests:

Google is pretty good at this. To prove this, you can check the above search volume for 'make money' (90,500). While 'make money online' has 246k monthly search volume.

If it turns up in a Google suggestion, there is a high search volume. These suggestions won't necessarily renew your trust in mankind, but they can steer your keyword research.
Google related searches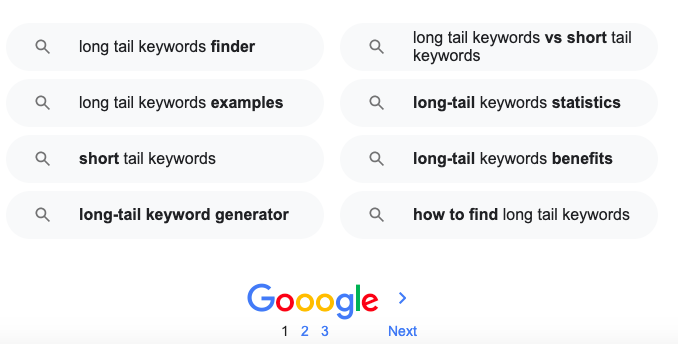 If you scroll down to the very bottom of the results page you will see some related searches in this case for the search term: 'long-tail keywords.'
Google Analytics
GA used to tell you many of the keyword phrases that led visitors to your website. That was before keyword referrals were encrypted by Secure Search. If you navigate now to:
Acquisition | All Traffic | Channels | Organic Search you will see something similar to the following: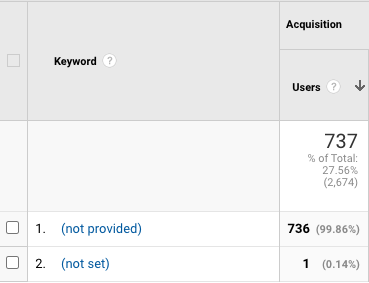 Not much help. However, with Keyword Hero enabled it looks like this: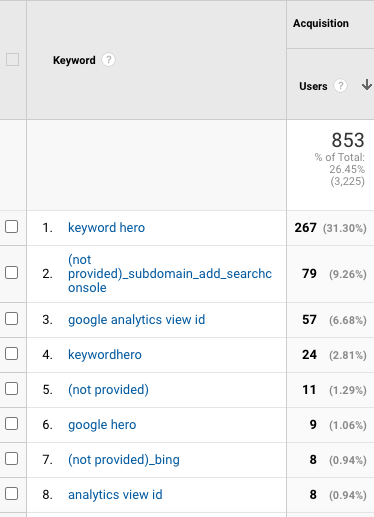 So you can scan all the terms for relevant long-tail keywords and turn them into content, or you can set the time frame to three, six, or 12-months worth of data to search for patterns.
You could search for question keywords like 'what,' 'why,' etc, and build from there.
Search Terms report
There is a good chance that your marketing team also runs PPC campaigns in Google Ads.
The Search Terms report is a list of search terms that a significant number of people used, and that resulted in your ad being shown. Depending on your keyword matching options, the search terms listed might be different from your keyword list.
The column Keyword tells you which of your keywords matched someone's search term and triggered your ad.
View your Search Terms report
Sign in to your

Google Ads account.

Click

Report

from the grey panel at the top, then click view all, then open the

Search Terms

report.
You'll see data on which search terms a significant number of people have used and triggered impressions and clicks.
You can alter your search terms report and modify which columns show by clicking the column icon on the right. This will allow you to add, remove, or reorder the columns in your report.

The search terms report only includes terms that a significant number of users searched for, even if a term received a click. You may now see fewer terms in your report.
You can add different columns like conversions, CTR, CPC, etc, and filter high to low.
Browse q&a sites
Quora (here are some tips for using

Quora to find content ideas

)

Reddit.

BigSEO

is a great community for asking questions and finding new ideas for long-tail keywords.
Questions make ideal long-tail keywords, it's more clear what exactly people want.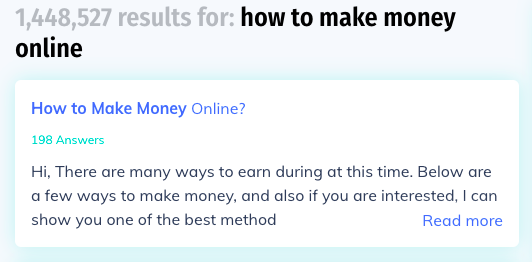 Get inspiration from competitors
For informational queries, Wikipedia is often your competitor. However, you should always check out the competition when you're chasing a keyword term. Start with short and mid-tail terms that you're trying to rank for, and see what types of keyword variations are used on the pages that are ranking at the top of the Serps.
For example, let's say you're targeting the keyword 'make money.' Investigate the pages that rank well for that keyword and see what keywords it's using.
We checked out the search results for 'make money' and found this one. Not a long-tail keyword that you probably would have thought of but it has decent search volume.

Keyword research tools
Having been in SEO for over a decade I have a few tools that I use for finding long-tail keywords.
Moz Keyword Explorer. Put a keyword into Keyword Explorer and you will get information about monthly search volume and Serp features including the featured snippets that are ranking for that search term. The tool is relatively accurate for search volume data. It's nowhere near as accurate as Google Keyword Planner.
Google Keyword Planner. Google Ads Keyword Planner has to be the starting point for SEO keyword research. That being said, as mentioned previously, you will need to run at least a minimum 1$ ad campaign to reveal the full search volumes, otherwise, you will be limited to rough volume ranges. You will not regret using the full version of Keyword Planner.
P.s you might come across an article that describes a method of accessing the full version by creating an account and switching to expert mode at the bottom of the screen. We tried that and Google has since removed this as an option.
Google Trends. The Google keyword trend tool is good for finding seasonal keyword fluctuations. For example, 'Summer fashion'.
AnswerThePublic. This is a free tool with popular questions related to a specific keyword.
SpyFu Keyword Research Tool. This is a handy tool that provides some interesting keyword data.
Keyword Hero. Another free tool that you can use to reveal all 'not provided' keywords on Google Analytics.
How to drive search traffic from long-tail keywords
Long-tail keywords are usually easier to rank for than short-tail keywords.
For example, look at the top-ranking page for the long-tail keyword 'make money while you sleep' (1,900 monthly searches). It has just three backlinks and two referring domains.
(Referring domains are websites containing one or more backlinks that point to another site.)
Hence, If you were to create a page on this topic and build some links to it, you could expect to rank in the top three, quite quickly.
Now let's compare this to a popular short-tail keyword like 'weight loss' (550k monthly searches.)

This time, the top-ranking page has 82.3k backlinks. Thus, your chances of outranking them in the short-term are virtually zero.
In general, it is far easier to rank for and get traffic from long-tail keywords.
But is that always the case?
Let's take another example.
The keyword 'intermittent fasting weight loss diet' has 1,600 monthly searches. It should be easy to rank for this keyword right?
Let's take a look at the top-ranking page:

Looks like there are a significant number of backlinks and over 604 referring domains. Good luck trying to knock them off their perch.
Why is this long-tail keyword so competitive?
It's because 'intermittent fasting weight loss diet' falls under the broader topic of weight loss.
When different people search for things like…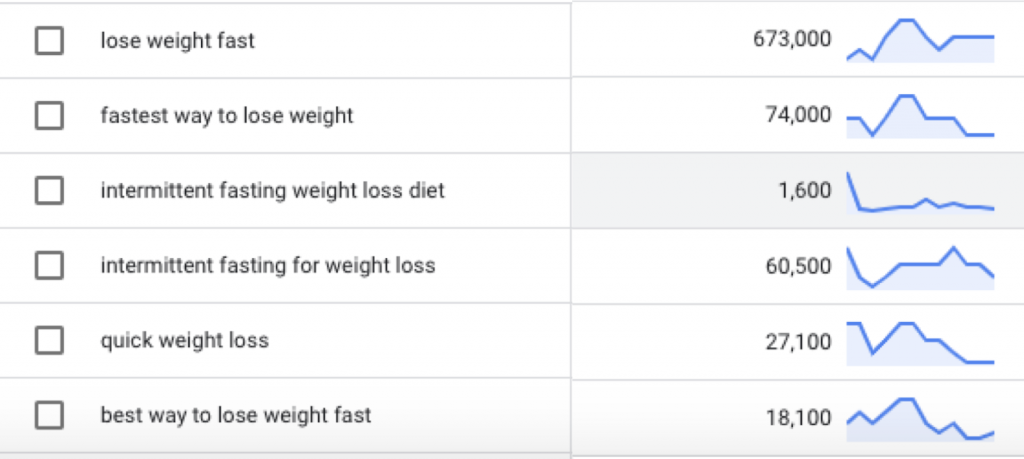 They all have the same intent: to lose weight.
Google always thinks about intent and ranks a similar set of pages for all those long-tail queries.
Thus a very specific search term like intermittent fasting for weight loss would seem to be a good option to rank well, but on the contrary, you will need to compete against some big hitters in the health space.
This brings us to our next section.
Every topic has its own 'search demand curve'
Here's what it looks like for the topic of weight loss: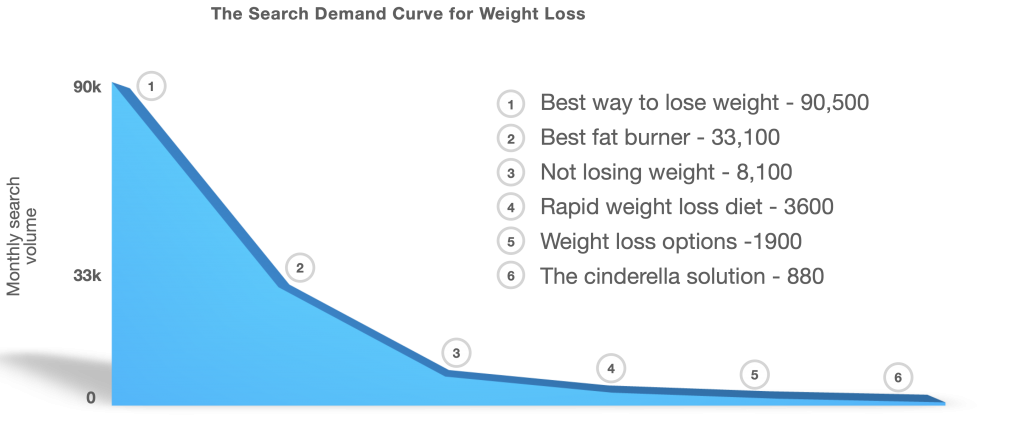 I know what you are thinking.
What the hell is the Cinderella Solution?
The Cinderella Solution is a women-only weight loss system that removes the need for calorie counting.
Anyway, you can see that while there are a few short-tail terms, there's also a very long-tail consisting of thousands of low-volume keywords. All of those are part of the same topic.
Nevertheless, this isn't the case for all keywords with low search volumes.
Some long-tail keywords are topics in their own right like the Cinderella Solution.
One quick check on Semrush and you can quickly identify whether this is a keyword worth chasing i.e the top three sites have a low number of referring domains and backlinks.

In this case, the first spot is unattainable but look at the opportunities to claim the first and second spot. The second spot has zero backlinks and no referral domains and the third which looks like the same press release has just two of both.
With a comprehensive article, rank two could easily be claimed and with it the traffic windfall that comes with the top-tier rankings.
Finding long-tail keywords with Keyword Hero
When you have hundreds or even thousands of keywords, how can you tell what are the best performing long-tail keywords?
Without a solution like Keyword Hero, this is not possible, as most organic keywords are set to (not provided). Unlocking these organic keywords allows you to identify new opportunities.
I can do this on Google Search Console though, right?
Google Search Console has limitations for finding your keywords.
By selecting the best organic performing keywords, you may be able to increase your ROI for keywords.
If you ensure you are ranking for both paid and organic, then you can increase conversions by taking up more page space on the Serps.
What is the VLOOKUP function?
V stands for vertical. This is a function in Excel or Google Sheets that searches a column and returns information from that row. It is incredibly useful for searching large amounts of keyword data.
You can use the VLOOKUP function to create a table containing your top-performing organic and paid keywords. By analyzing these keywords we will identify new long-tail keyword opportunities.
Importing the right data
(You will need Keyword Hero for this step)
First, let's import the data.
Please ensure your Keyword Hero property in Google Analytics is configured correctly. If you are not sure about how to do this, then please check out these resources.
I will try to keep this simple for the sake of the example.
You may have a specific use case and need more advanced keyword segmentation, but the steps in this guide still apply.
Go to your Keyword Hero Google Analytics property (not your original Google Analytics property).

Set the data range and how many rows you want the table of results to show. In this example, we will choose the first 100 rows of keyword data.
Now set the secondary dimension to Position – this is a custom dimension available to Keyword Hero users that allows you to see the Google ranking of a keyword. Learn all about secondary dimensions and custom dimensions.
Excel users: export this data to a spreadsheet
Google Sheets users: export this data to a Google Sheet
Excel users: export this data to a spreadsheet

Google Sheets users: export this data to a Google Sheet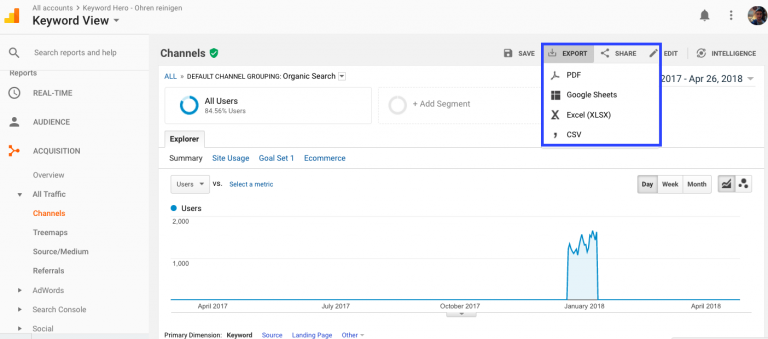 Now we have the long-tail keyword data we need.
Head to your main Google Analytics property (not Keyword Hero). In this step, we are going to export our Google Ads data.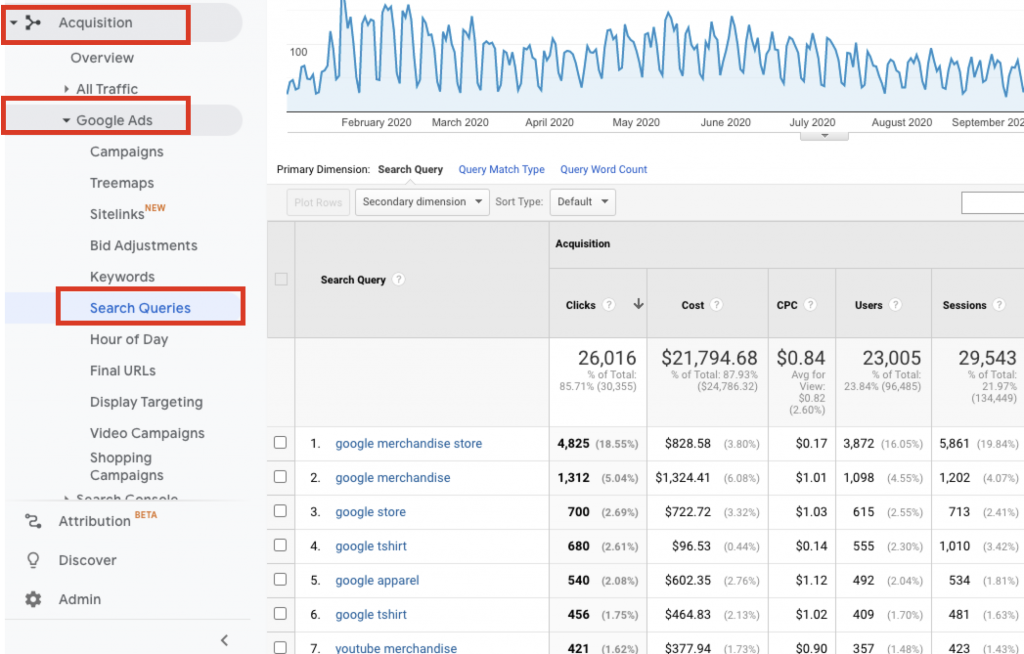 If instead, you click on Keywords by mistake, you will only see the terms you paid for in the campaign and not what people clicked on. Clicking on Search Queries shows you the results.
By default, these paid keywords are listed in order of clicks. Again let's take the top 100 performing paid keywords.
Make sure you choose a similar timeframe as you did in the organic keywords for more accurate results.
Once again, export this data to Excel or Google Sheets. By default, Google Analytics does not let you export data to the same workbook.
So you will have to copy and paste the paid data to a new tab in the organic data sheet.
The goal is to have both sets of data in the same sheet. In this example, the keyword data has been reduced to just Keyword, Position, Sessions, and Bounce Rate. You can include whichever metrics are relevant to your organic keyword data. Finally, we can sort our data by clicking on our desired metric, in this case, bounce rate.

Using a VLOOKUP function
Ok. We are now ready to put the VLOOKUP function to use. Before we do let's quickly review the syntax of this function (advanced users can skip ahead).
The syntax for the VLOOKUP function is the same in both Google Sheets and Excel:
=VLOOKUP(search term, search range, column to return data from, match type)
Search term: this is the term we are looking for, for example, 'google t' located at A2.
Search range: this is the range of cells we are going to search to find our search term. In this case, it is our paid keywords tab, column range A.
Column to return data from: If we search column A for keywords we want to return the data from Column B associated with this, in this example the definition. This is a number counting from the first column of the range. So column A in a range = 1; B = 2 etc.
Match type: Setting this to TRUE performs a broad match; setting this to FALSE performs an exact match.
For our purposes, we will want to set this to FALSE. By default, this is set to TRUE so don't forget to change this.
Let's take a look at a very simple example:
Using VLOOKUP to find keyword opportunities
Ok, let's return to our sheet.
I have named my two tabs 'paid keywords (AdWords)' and 'organic keywords'
The column after your data is where we will enter a VLOOKUP formula.
=VLOOKUP(A2, 'paid keywords (AdWords)'!A:A, 1, FALSE)
This formula chooses the cell 'A2' as our search term.
In our case, this is the organic keyword "google t".
It then searches the range in our paid data tab. To do this we enter the name of that worksheet in single quotes followed by an exclamation mark and the column we want to search. In our case, we want to search column A in the paid keyword data.
The Syntax for searching another worksheet tab: 'Name_of_your_worksheet'!A:A
We set the value to return to '1'. We simply want to see if the organic keyword is also present in the paid sheet. If so, then the keyword term will appear in our new column. If it isn't, '#N/A' will appear instead.
Copy and paste this formula for your data range. Make sure there are no '$' signs. After you hit enter, you can view the results: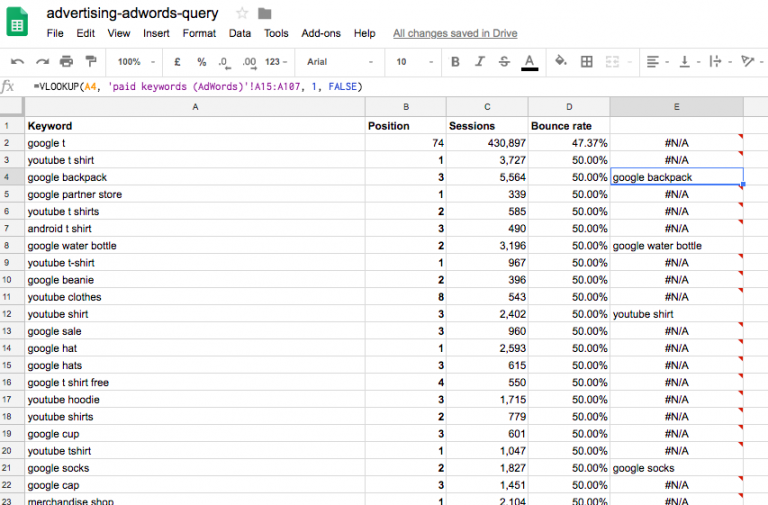 We are looking for organic keywords that are both performing well and that don't appear in our paid campaign. We have already sorted the data by bounce rate and added a custom dimension position.
The organic keyword "youtube t shirt" appears to have a lot of traffic, a low bounce rate, and ranks first in the search results. However, this keyword is not included in the paid campaign. Similarly "google hat" has lots of traffic, a good bounce rate and is ranking first.
Using this method, you can quickly identify long-tail keyword opportunities.
Long-tail strategy
Ultimately, the tactics you decide to use for long-tail keywords will depend on how you answer the following questions.
Is your website new or does it already have domain authority?

How much value do these keywords have for your business?

Can you unlock keywords not provided on Google Analytics?

Struggling with that last one?
You can make all your 'not provided' keywords visible with Keyword Hero.