The Keyword Hero pricing structure has changed.
We made some changes.
And, it's great news for new users.
Keyword Hero has extended its free trial period from 30 days to 90 days.
This decision was based on the consideration that Keyword Hero works better after the one month mark as data is trained by the algorithm during that period of time.
The great news means that ecommerce businesses and web publishers of any size can sharpen their SEO, by optimizing website position in Google Serps and by targeting specific keywords to drive organic traffic and increase conversions.
There is no other keyword tool in the market that offers an 83% certainty for keywords 'not provided.'
One myth you might have heard is that Google Analytics 360 users who pay $150k per year get (not provided) back. This is a myth that we can debunk. Like all other GA users that only have access to keywords used in Google Ad campaigns and not organic keywords.
Why can't I just use Google Search Console?
I've seen dozens of comments online about how GSC is all you need to get your 'not provided' keywords back.
This is simply not the case.
However, both GA and GSC are useful data sources.
Google Analytics is user-oriented.
It shows you who visits and interacts with the main content on your website.
Google Search Console is search-engine focused.
It shows site owners how to improve visibility and presence in the Serps.
As such, both tools provide different metrics, with Google Analytics favoring clicks and Google Search Console prioritizing impressions.
This is why we use both along with seven other data sources.
To reverse engineer your keyword back you need to pull in multiple data sources and then train and classify this data, otherwise, it is just guesswork.
I wrote in detail about the differences between GSC and Keyword Hero.
Keyword Hero pricing for subscribers
The subscription fees are competitively priced.
This is after all the only solution where you can see all your keywords back in your Google Analytics account under a new view.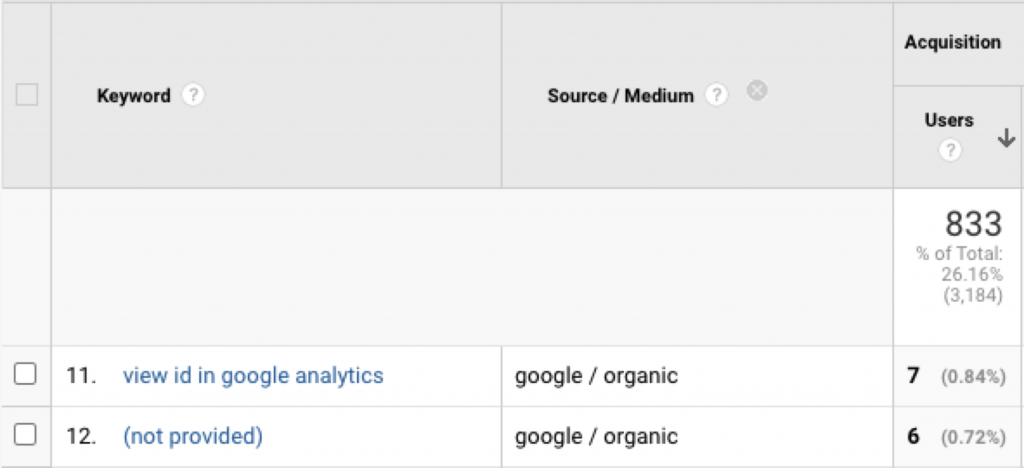 In the example above (not provided) is down to just 0.72% of the organic search keywords compared to 96-98% for most users.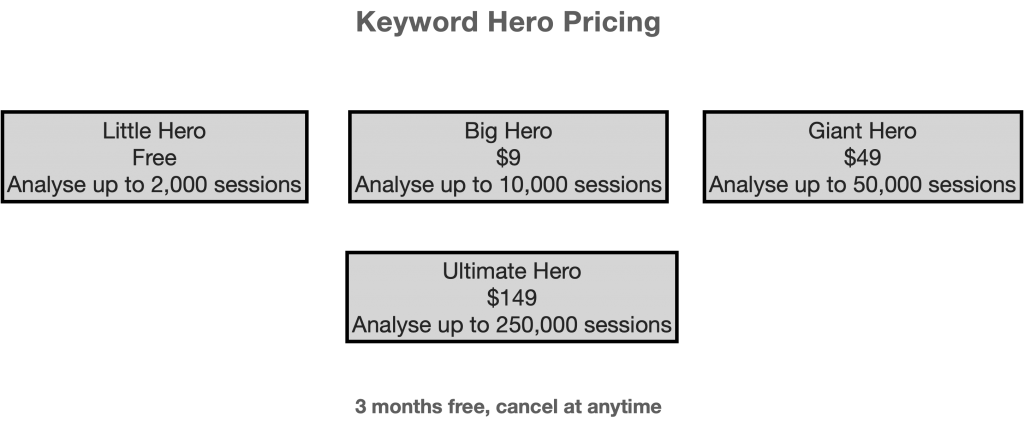 Google Search Console keywords not complete
GSC was promoted as a replacement to the data derived from referrer keyword data.
However, this is now filtered by Google for privacy reasons.
Unfortunately, there is no information available from Google on the scope, extent and background to the level of keyword filtering.
It is also unknown whether the filtering changes over time.
Data in GSC is compared to previously available keyword data, which used the referrer-string.
Yet it's not the same. Data is missing and the rules are unclear.
Nonetheless, GSC will give you a good starting point to see what's happening on the results page, but you will need other data sources for a well-rounded interpretation.
For each keyword on GSC, you can access data for clicks, impressions, click-through rates (CTRs) and average position.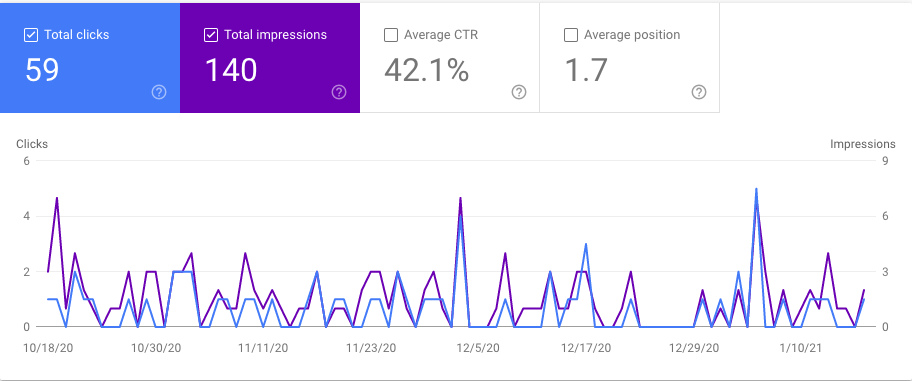 This gives you a good idea of what the most important organic keywords are for your website.
The problem with this report is that you can only get data for your entire website, not individual pages.
And you can't map it to individual sessions on Google Analytics.
It doesn't discern whether your site shows up on page one or page 1000 of Google.
Hence impressions in this report don't necessarily mean people are clicking through to the page where you appear on Google.
Nonetheless, GSC plays a role. It's just another data source that can't be used in isolation for reliable results.
Top 5 paid SEO tools
While it's fun to get free SEO tools, larger businesses will need to invest in advanced tools that can drive performance at scale. Many tools are worth the price, and digging into the full paid features can yield a well-rounded view of your SEO.
Here are the top five paid SEO tools
(In order of price)
Ahrefs $99 to $999 per month

Moz Pro $99 to $599 per month

SEMrush $119.95 to $449.95 per month

Majestic $49.99 to $399.99 per month

Keyword Hero $0 to $149 per month
All of these tools offer different features. Yet, Keyword Hero is the only SEO tool that can be used to find 'not provided' keywords on Google Analytics with 83% certainty.
Read here about how to get keywords not provided back.
The Keyword Hero pricing structure works well for both agencies and medium to large sized companies actively using SEO keyword optimization.
Once you reclaim your keywords not provided you can once again:
Understand conversion keywords

Find out keywords for quick wins

Access keyword performance across devices

Stop ranking cannibalism

Analyze long-tail keywords

Do better keyword research

Adjust to Google's algorithm updates

Detect and monitor brand keywords
Read more about what you can do in detail here.
As an ecommerce merchant, this keyword data is invaluable. You can use it for keyword research. And, once you can see your keywords back in Google Analytics again, you can better understand your customers, how they ended up on different web pages and who the most profitable customer segments are.
If I know that, for example, people who search for "red shoes'' have a 2x conversion rate of people searching for just "shoes", I can customize page content, so that customers intent more closely matches page content, for increased sales.
A stock brokerage might discover that people searching for "buy breakout stocks" tend to result in higher conversions than just "buy stocks" and thus could tailor content around these search terms and use keyword optimization to ensure that this top-performing traffic isn't a lost opportunity.
When you consider the dozens of SEO tools on the market, you need to be selective. If you want to have 10x more visibility into keywords, the variety of Keyword Hero pricing packages available will offer businesses of different sizes/ industries a chance to analyze keywords across thousands of Urls (up to 250,000 for the Ultimate Hero package.)
Within a few days, you can begin to see what keywords are converting and you can identify the exact session on Google Analytics where the user entered your website, and their on-site behavior along with exact search terms used.
This has not been available on Google Analytics for several years.
The graph below shows the historical trend of keywords 'not provided.'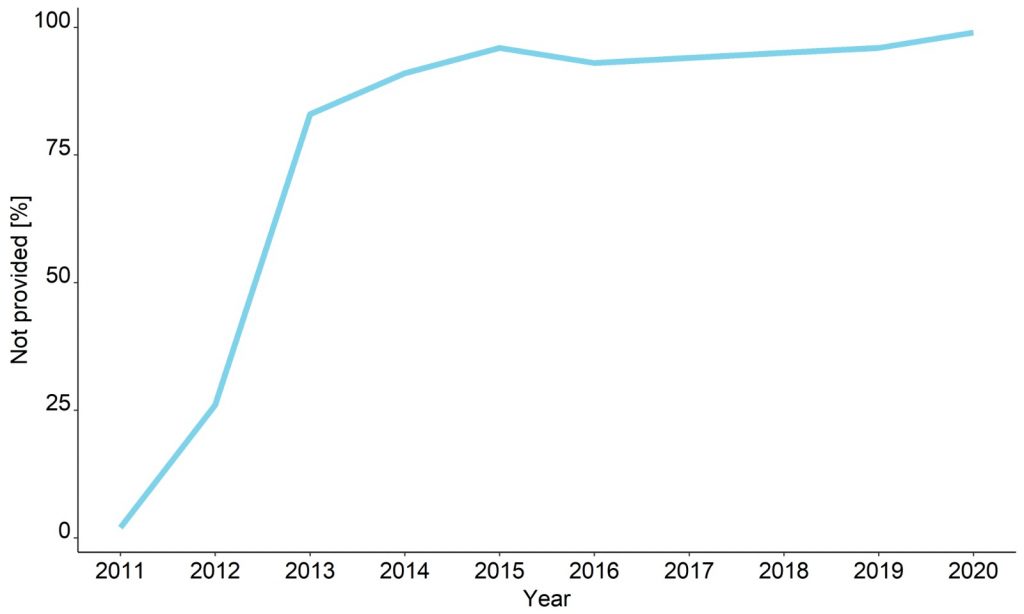 The percentage of keywords available has steadily decreased since 2011.
Was this for privacy or for profit?
That remains to be seen, but you see your keywords again with Keyword Hero.
Click the banner above for a free, cancel at anytime, free trial.