A branded keyword strategy is an underestimated element of a comprehensive keyword strategy.
Brand keywords are search queries that contain the name of a company, a variation of its brand name, or the name of a product.
For example, a brand keyword for Nike.com would include queries for Nike Pegasus.
Keywords that do not contain a brand name are considered non brand keywords.
Additionally, some keywords that have a brand name within the phrase but are not unique to one brand can also be considered a brand keyword.
Determining criteria
Branded keywords are determined by the following criteria:
Sitelinks with a company's Url on the keyword's results page

A link to your site from the Google Knowledge Graph on the Serps

A brand keyword within the keyword phrase if the domain is ranked in the first organic position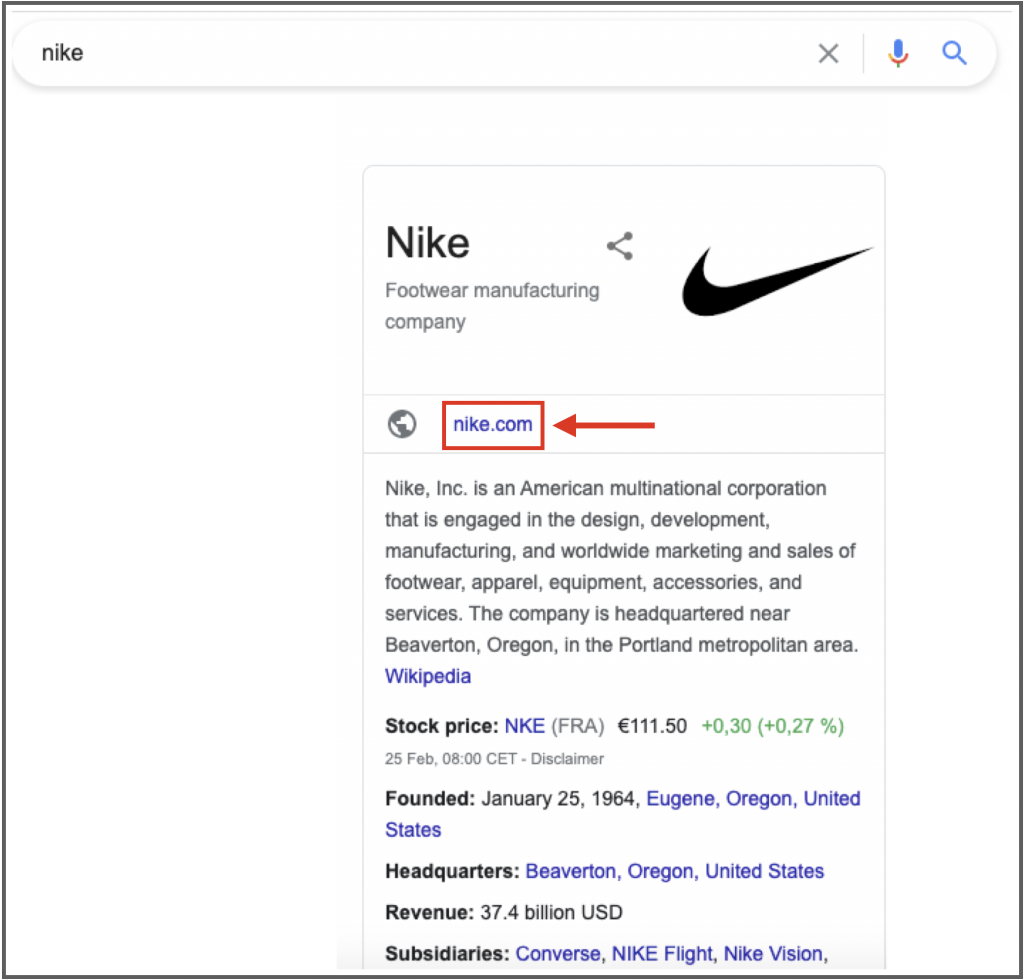 Organic click-through rates for brand keywords
I don't have to tell you that click-through rates for brand keywords also known as navigational keywords are higher.
This may seem obvious to marketing executives, but it is often overlooked.
There is an assumption that if you rank high its enough to get clicks.
This is true for the most part, at least in the top six places.
However, if a person recognizes your brand from the Url, title or sitelink, your chances of getting a click are much higher.
Does organic CTR impact SEO rankings?
Larry Kim is convinced that organic CTR plays a role in how a page ranks, and I tend to agree.
In brief, if a page ranks in position three, but gets higher than expected clicks, Google may decide to rank that page higher because people are interested in it for a reason.
Google has said that RankBrain is being tested on long-tail keywords.
To improve its machine-learning system, Google wants to start testing pages that have no data or backlinks.
Google can tell which of these unknown pages should rank by examining engagement and relevance.
And CTR is one of the best indicators for both.
According to Google, there are many ranking factors including:
Choice of keywords

The relevance and usability of the page

The expertise of sources

The location and setting
The weight applied to each factor varies depending on the nature of the query.
For example, the freshness of the content plays a bigger role in answering queries about breaking news topics than it does about historical events.
How do I find my brand keywords?
Here are three sources of branded keywords. It's easier for large companies to find their brand keywords in this way, but startups and smaller companies can benefit from this approach.
Google autocomplete and related searches
Google makes it easy for you to find your brand keywords.
Between autocomplete: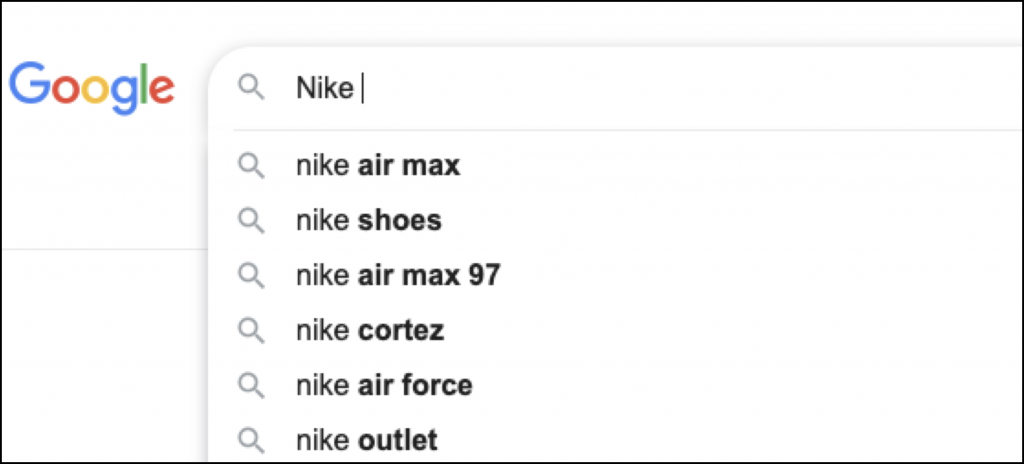 And related searches (found at the bottom of the page).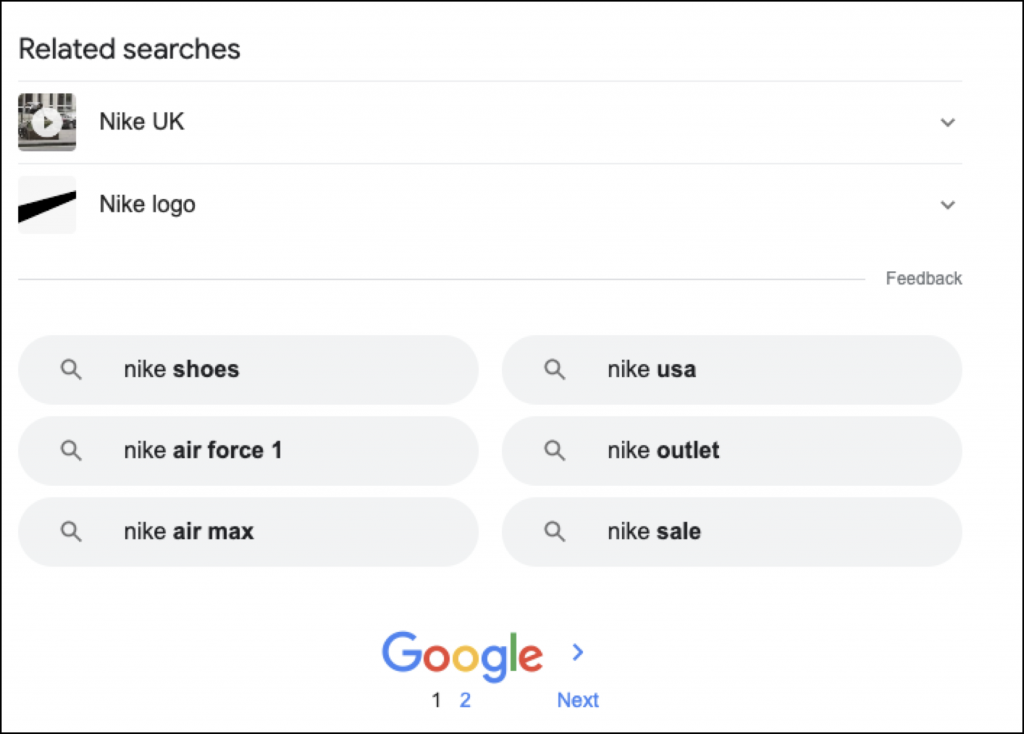 You can get a good idea of some of the most popular keywords for your brand.
Google will not suggest a search term unless there is a minimum threshold search volume.
But I'd recommend cross-referencing this against Google Keyword Planner.
To find 100% of your branded keywords you can try Keyword Hero by clicking the banner above.
Queries report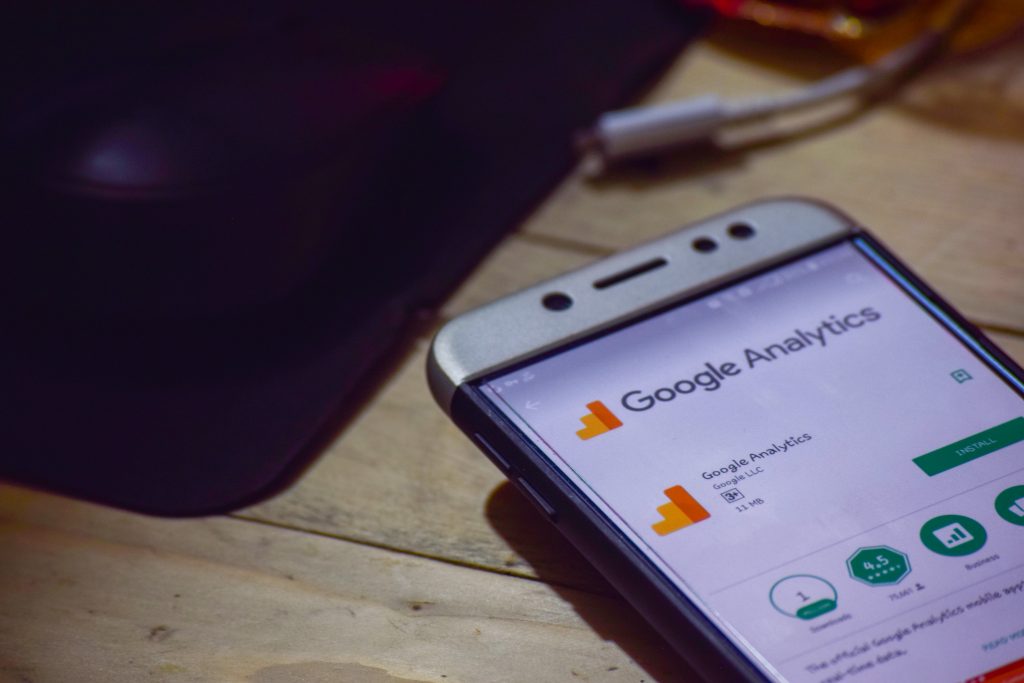 You can see a small fraction of your keyword in Google Analytics.
Connect Google Analytics and Google Search Console

Go to the Acquisition | Search Console | Queries

Filter for the name of your brand
How do I create a branded keyword strategy?
Now that you know what people are looking for when they search for your company, it's time to optimize based on keyword research.
Here are some areas to pay attention to.
Scan the Serps for competition
Google each of your brand keywords from your list and see if you have the first Serp position. If you don't it's time to check out the related landing pages on your website for this keyword. You can do this with Keyword Hero installed. Otherwise, the keyword will be blocked as 'not provided.'
Use keyword optimization to enhance the most popular landing pages related to this brand keyword.
On Google Analytics go to Acquisition | Overview | Organic Search.
Set keyword as the primary dimension and landing page as the secondary dimension.
Add an advanced filter for the brand keyword.

This report will show you your most popular landing pages and the related organic keywords that brought people to the page.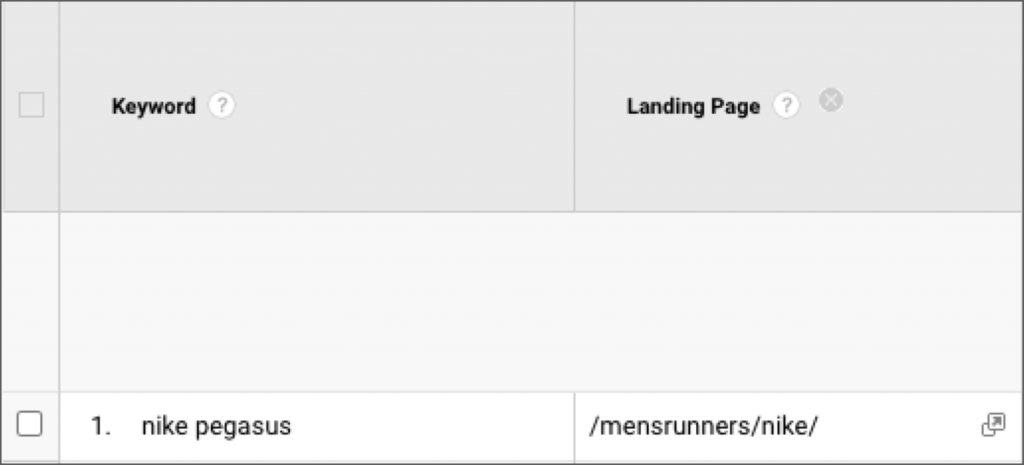 (Note, this unlocked keyword view is only possible with Keyword Hero installed).
Add keywords (naturally) to the related landing pages
Equipped with your list of keywords you are now ready to place them on your webpage.
Not every placement of a keyword is equal.
Here's a list of some of the most important places to optimize for your chosen keywords on your landing page:
Title

Description

Heading and body content

Alt text for images

Urls
Page title
If you include the brand keyword in the page title, it's easier for people to identify that your page is relevant to their query. If you can get the keyword at the front of the title without it sounding strange, even better. This will help Googlebot access if the page matches the search term in question.
Description
A good description can help increase click-through rates, but they don't have a direct impact on rankings. They're for people, not search engine crawlers, so use them to encourage people to visit your page.
Use your brand keyword in the meta description, so Google knows your content is relevant to the query, but make it attractive to the viewer, too.
Heading and body content
It's important to use your brand keyword in at least one H2 heading, to send a clear signal to Google about the relevance of your page to the search intent of the person.
Remember to write for people and not search engines as Google crawlers will penalize you for keyword-stuffing your content.
Focus on what matters to your audience, not how many times you can include a brand keyword. If you do that, you'll usually find you naturally optimize for important keywords.
Alt text for images
You should also look at including brand keywords in your image alt text and titles.
Both alt text and titles can be added to an image tag in HTML.
An image's alt text tells search engine crawlers what an image is about, which helps it be found on Google images. It'll display inside the image container when an image can't be found, and it also improves accessibility for people with poor vision.
An image title tag is shown when a user hovers their mouse over an element.
Adding brand keywords to images isn't going to impact your search rankings as much as other factors, but 'shutterstock_12004230' is much worse than 'Nike Pegasus running shoe.' And, it only takes a second to change to something that better describes the image.
Urls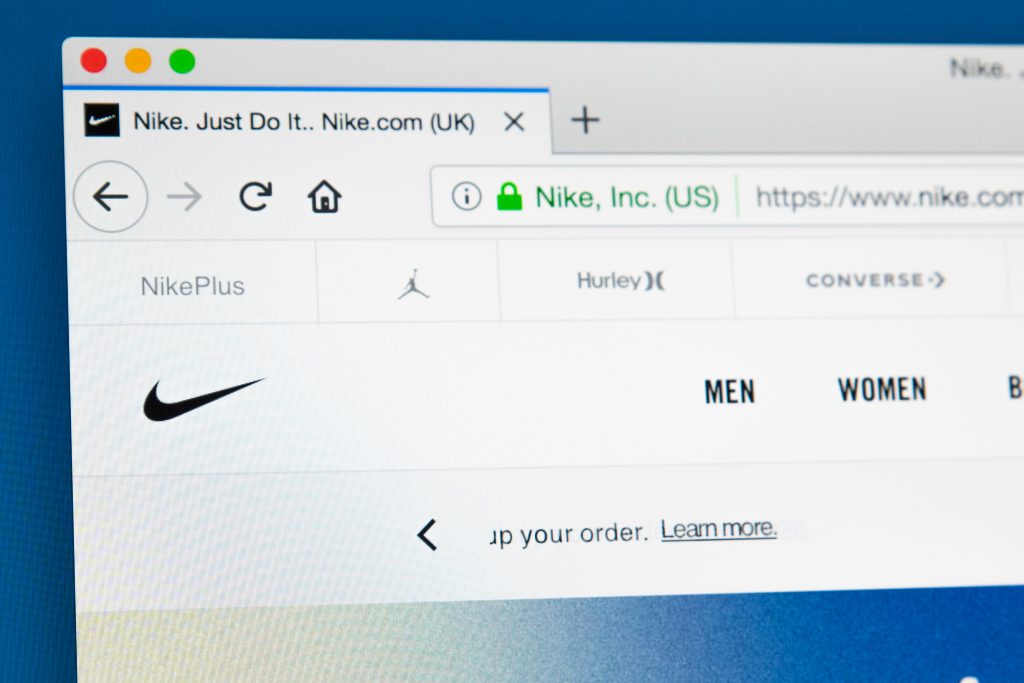 It's a good idea to include brand keywords in your Url.
However, search engines will penalize exact match domains that are keyword stuffed.
As always, keep user experience in mind when you're creating page Urls.
Overall, your Urls should make sense to people and give them a sense of where on your website they have landed.
You should also separate words with hyphens and remove extra words (like 'in' and 'the') in the Url slug.
How can I avoid search penalties?
You have probably heard of white hat and black hat SEO.
The biggest difference between these two approaches are that white hat SEO follows Google's guidelines to the letter, while black hat SEO violates these guidelines and is typically done with complete disregard for human users.
There are a couple of things you should also avoid when optimizing your site for brand keywords.
Never hide keywords
This includes using the same color background as you do for the text, hiding them behind images, or hiding them off to the side using CSS.
While this isn't as easy to catch as other black hat tactics, crawlers can easily find hidden keywords and it can result in serious search penalties.
Avoid keyword stuffing
Keyword stuffing means repeating the same keyword multiple times in the text. This used to happen a lot in the past, but ended soon after Google Panda came along.
Yoast has a plugin that requires a certain keyword density to get a green light for SEO for web pages.
Ignore that if you use WordPress because keyword density is no longer a ranking factor and search engines can detect it. Not only does it read poorly, but it will be marked negatively by Googlebot: the web crawler software used by Google.
Don't force keywords
This is distinct from keyword stuffing. This is more about not forcing a keyword into a sentence if it affects the legibility of the sentence.
If a brand keyword sounds awkward in a sentence, leave it out.
SEO is more about choosing topics relevant to your target audience and not choosing keywords first and writing topics after.
User experience is important
Google has two important ranking factors that evaluate the user experience of a page, one is bounce rate and the other is dwell time.
Speed is one of the 9 most critical SEO success factors, but speed also affects bounce rate and dwell time. Bounce rate is the percentage of website visitors who view a single page then exit the website.
Dwell time is the average time users spend on a page.
A combination of both metrics gives Google an indication that a page satisfies user intent and provides a good user experience.
If you fail to provide a good user experience, you can expect both of these metrics to disimprove along with your visibility on Google.
Good user experience is dependent on readability, understandability, and whether users' get what they want (information or transaction).
Brand keyword conversions
Not all brand keywords should be chased, they need to have clarity and relevance.
Clarity
If a keyword is specific, visitors searching for that keyword will click the link knowing exactly what they are going to get.
They might be searching for something specific to buy, and so they came to the landing page with a purpose.
For example, someone who searches for 'buy Nike Pegasus shoes', knows the brand Nike and what they want; the webpage just needs to match up to this expectation.
Relevancy
The landing page needs to be both relevant and useful. People searching for 'buy Nike Pegasus running shoes' don't need much persuasion.
They just need to be able to navigate the page, find the right color and size, and add it to the cart without any distractions or confusion.
Including competing brands on this page could end up with the person experiencing choice fatigue.