This is my list of the best keyword optimization tools.
These tools have helped organic traffic at Keyword Hero to grow by 113% in one year.

At first, we relied mostly on word of mouth for marketing
But recently we have used some of the best keyword optimization tools for enhanced traffic growth.
And in this guide, I'll reveal what has worked for us so far.
And I'll help you choose the best ones for your business.
Best keyword optimization tools
Whether you are trying to boost conversions by targeting the best performing keywords or you want to bring in more traffic, using a combination of free and paid keyword optimization tools is probably the best approach for most businesses.
Google Search Console
Google Search Console, formerly Google Webmaster Tools, is a free analysis and service tool from Google. Using the GSC, you can view Serp statistics and get alerted if there are problems with Core Web Vitals. Also, you will get warnings about bad backlinks or malware.
The metrics from Google Search Console can be linked with Google Analytics for data enhancement.
GSC is often considered a replacement for the Google Analytics of old, but it is the poor cousin in that regard. If you use it to find the keywords currently masked as (not provided) on Google Analytics, be aware that it will only show you a fraction of the total keywords used by website visitors.
That is probably because Google wants you to pay to see these keywords or perhaps it is for privacy, you can be the judge of that.
Given the number of people who consider GSC an alternative to GA, I wrote an article detailing the differences between GSC, GA, and KWH. In brief, GSC shouldn't be used in isolation but in tandem with other data sources for full keyword visibility.
Apart from seeing some keywords and the pages on your site that get the most clicks from Google, how can you use GSC for keyword research?
Well, you can use it to find quick win keywords.
Quick win keywords are where you rank between 9 and 20 on Google for a specific keyword.
And with a little extra on-page SEO, you can find yourself with a nice rankings boost.
Ahrefs Keywords Explorer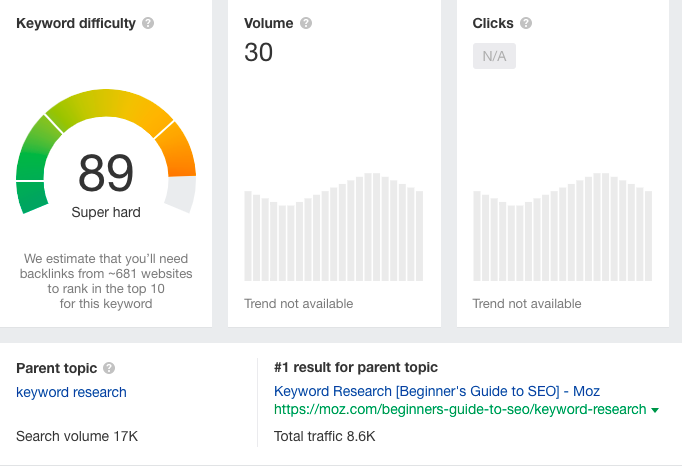 The Ahrefs Keywords Explorer is a good keyword optimization tool.
What I like most about it is that it gives you in-depth information on each keyword.
You get the expected search volume, but in addition, you also get a breakdown of the first-page competition and how many searchers actually click on a result.
The difficulty feature tells you how many backlinks you'll need to rank on the first page of Google.
One other nice feature is the parent topic data. If you enter a search for a long-tail keyword it will tell you what topic category Google will assign to the keyword.
This is important because, while search volume and direct competition might be low for the keyword you are targeting, the competition coming in from the parent topic might be strong, so it will make the keyword less attractive to target.
Keyword Hero
One of the best free tools for finding keywords 'not provided' on Google Analytics. As all experienced SEOs will know, the keywords used by website visitors are no longer visible on GA, instead, they now appear as (not provided). This makes keyword optimization from GA impossible.
What Keyword Hero does in a seven-step process is to pull together nine different data sources, trains and classifies the data with an algorithm and this appears directly back in your GA under a new view like below, so you can track keywords conversions again and monitor behavioral metrics for each of your organic keywords.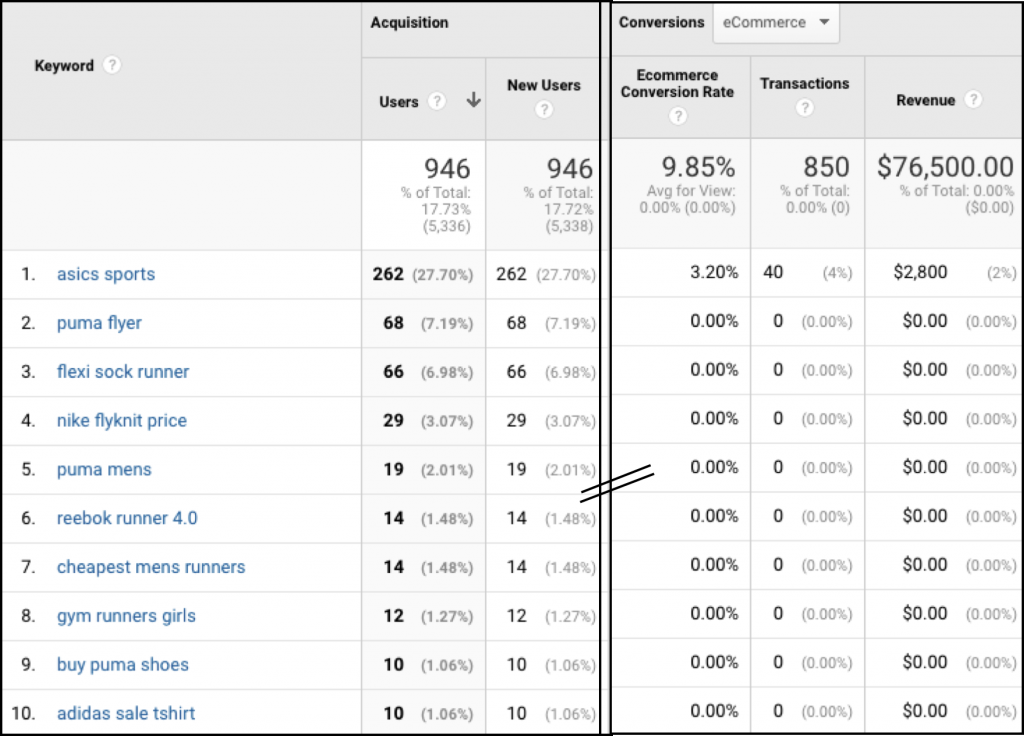 The Keyword Hero pricing structure is favorable for different-sized businesses as it is based on the number of Urls that your SEO team has under management.
Jaaxy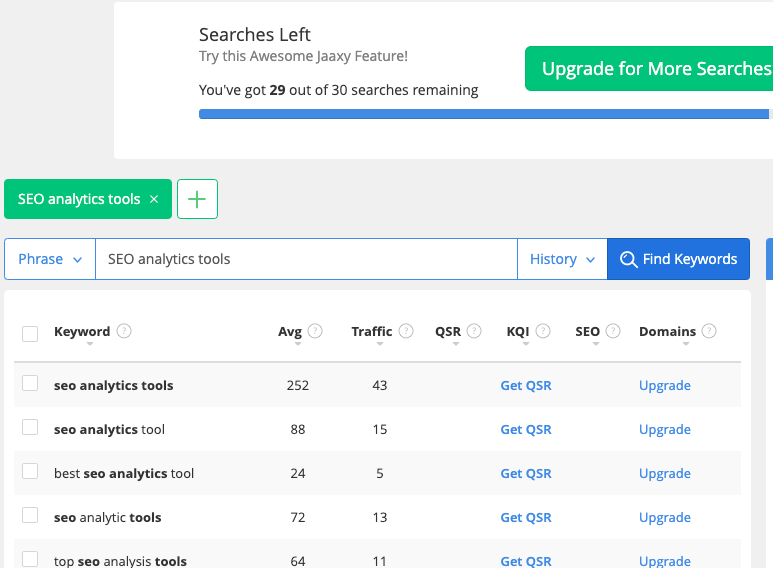 Jaaxy (as far as I know) is the only keyword and research platform that was developed by affiliate marketers for affiliate marketers. There is an incredible number of hands-on processes that are time-consuming when it comes to SEO. Finding the best keyword optimization tools for competition research is easier with Jaaxy.
I would recommend this useful platform for managing all aspects of keyword research, website, competition, and market research.
You get 30 free keyword searches as part of their free trial.
This tool can help you set priorities as you look at the nine most critical SEO success factors.
The quoted search result is a nice additional metric.
And can be used to see how many other websites are trying to rank for a specific keyword.
Soovle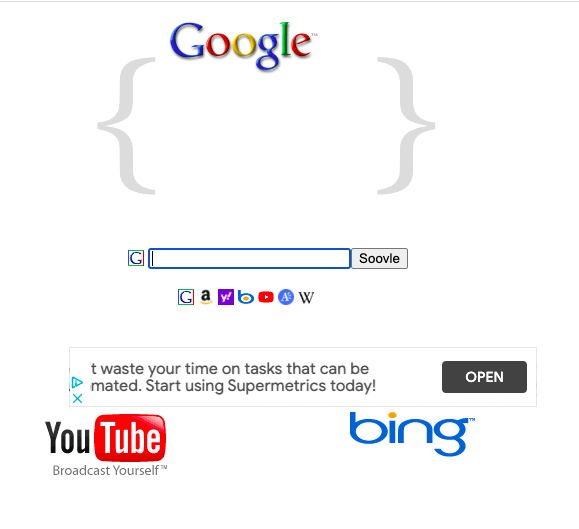 I have to say it took me a while to figure out what is going on with their website, but once I did it all made sense.
The tool allows you to scrape suggested keywords from multiple sources.
Soovle gives you suggested keyword ideas from Google, YouTube, Bing, Yahoo, Amazon, and more. That way, you can find keywords that your competition doesn't know about yet.
SECockpit

This is one of the best keyword optimization tools.
First, you provide a keyword and they give you back a list of results.
But what makes SECockpit unique is that it allows you to get info on search trends, organic competition, and traffic estimates.
I guess it means that this keyword tool is for SEO professionals.
Presumably, hobbyists would get less from this than 9-5 SEOs.
If you're new to SEO, the variety of features might be unnecessary for your needs.
However, you can use it to quickly size up competition without having to look one-by-one at the Serps.
And you can go back to the keywords page and add at least 20 more columns to the search results.
You can use over 100 filters to find the keywords that you want.
For example, do you only want keywords that get searched for at least 10k times per month?
Or maybe you want terms that have the best ratio of search volume to competition.
I find this one of the best keyword optimization tools for quick competition analysis.
It is not the prettiest dashboard though which might be some people off.
Google Keyword Planner

One of the best free tools for keyword research. Yet, it's probably not so useful without an active Google Ads account to unlock the full search volume. The free version will only give you a search volume range.
Nonetheless, you will still be able to see the keywords with the most commercial intent based on how high people are bidding on them.
The data in the Google Keyword Planner comes directly from Google. However, because it's designed for Google Ads, using it for SEO is not a perfect solution.
Moz Keyword Explorer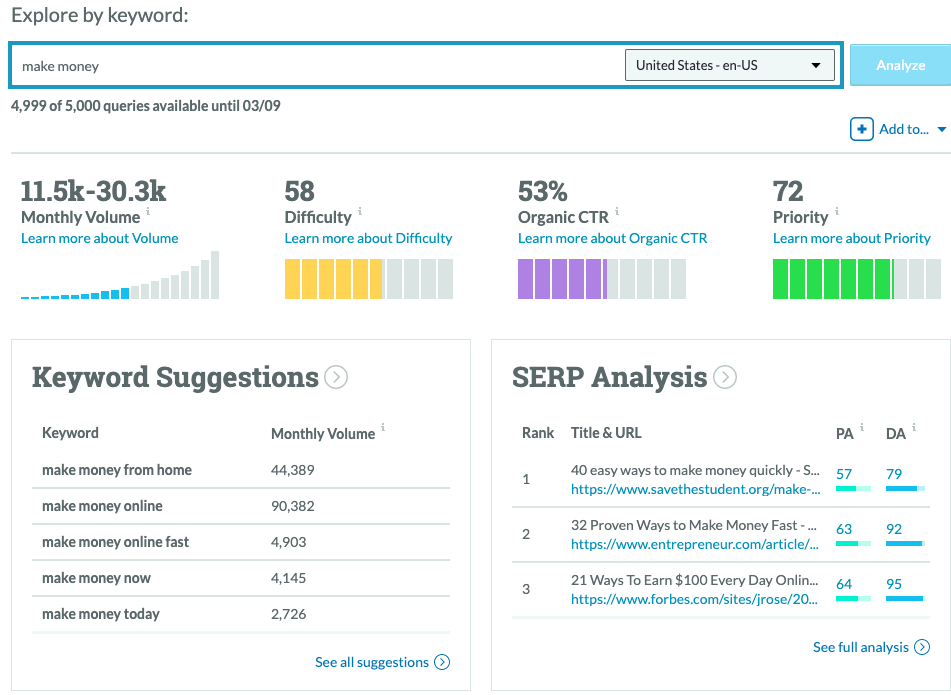 Moz's Keyword Explorer is good for finding related keyword ideas.
For example, take a keyword like 'make money'.
Like most other tools, you get a list of closely related keywords:
I like the keywords suggestions that you might not have thought of.
For example, 'make money not friends' from the search 'make money'.

This one also has commercial intent.

Maybe not the most morally attuned keyword but it's abstract and I like that Moz is smart enough to suggest this.
The priority score they use is a custom metric that pinpoints keywords that have volume, good organic CTR, and low competition.
Moz's keyword tool is good. Nevertheless, it's not a standalone tool (you have to pay for their entire suite of SEO tools to use it). At least you can enjoy it for 30 days for free.
Keywords Everywhere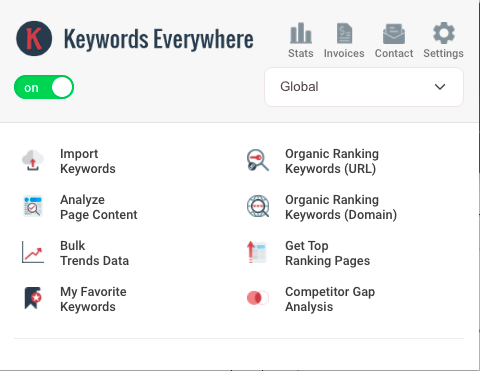 This is a freemium chrome extension and firefox add-on that helps you with keyword research.
The paid version has monthly search volume, CPC, competition & 12 month trend data.
Along with historical volume data in the trend charts for Google & YouTube.
One handy feature is being able to import your keywords to see monthly search volumes, CPC, and competition. The pricing is as low as $10 a year for the average user.
This is a clever albeit lightweight extension.
Keyword Snatcher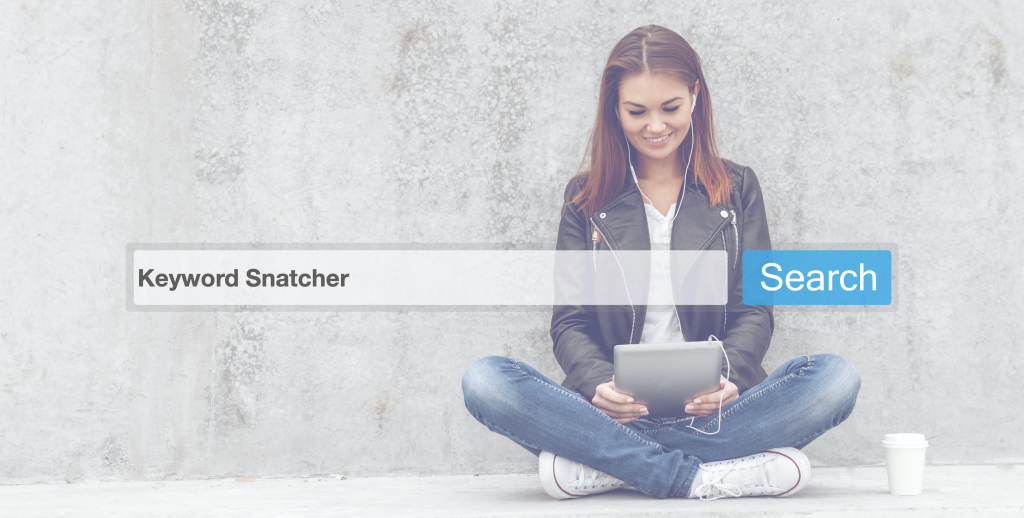 Keyword Snatcher can compete with SECockpit in the name category of the best keyword optimization tools competition.
If you need a lot of keyword ideas, this is your tool.
How does 2,000 keyword suggestions from a single seed keyword sound to you?
The downside of this tool is that it doesn't give you any data on the keywords like search volume or keyword competition, so you'll need to import this data back into Google Keyword Planner.
Here's how.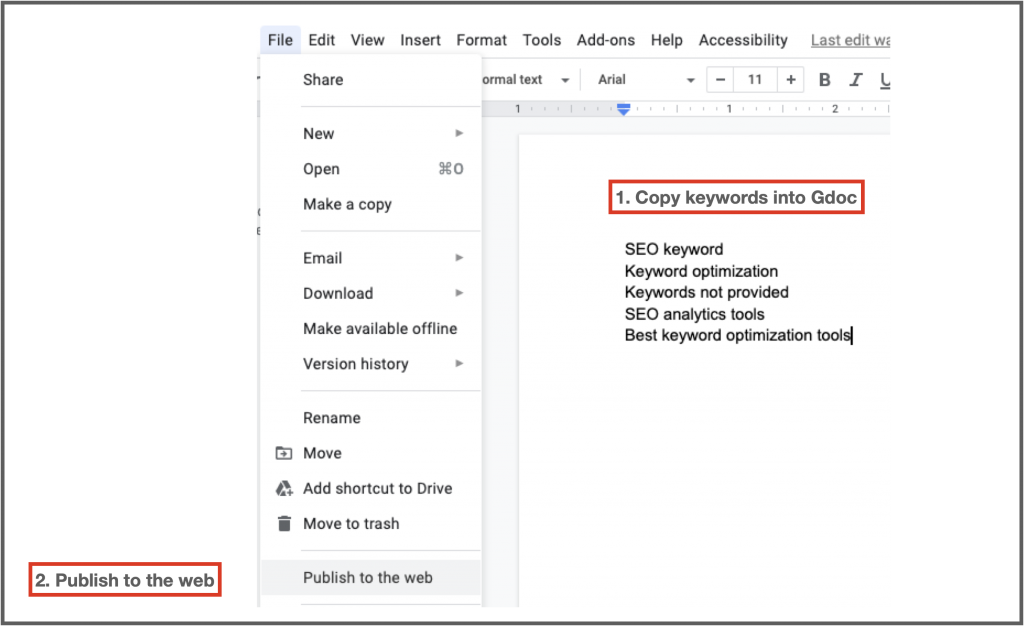 Copy the list of keywords onto a new gdoc.
Publish the gdoc to the web, go to File | Publish to the web.
Log on to Google Keyword Planner.
Choose to start with a website instead of start with keywords.

Now copy the link from the previously published article and paste it into Google Keyword Planner.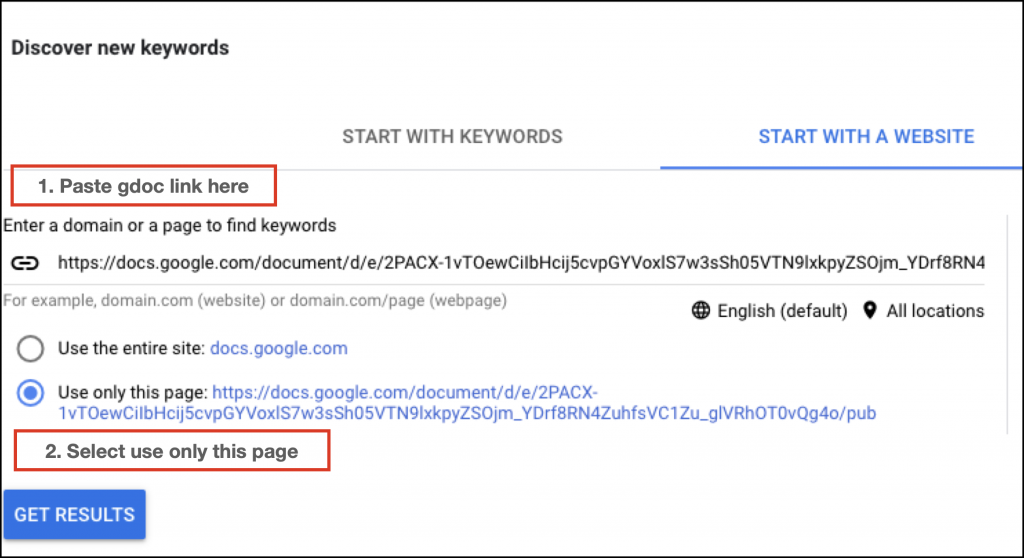 'Select use only this page' and click 'get results'.
Once you have all the keywords you are targeting uploaded in GKP you can see CPC prices and volume.
Problem solved. This will make tools like Keyword Snatcher much more valuable.
Google Trends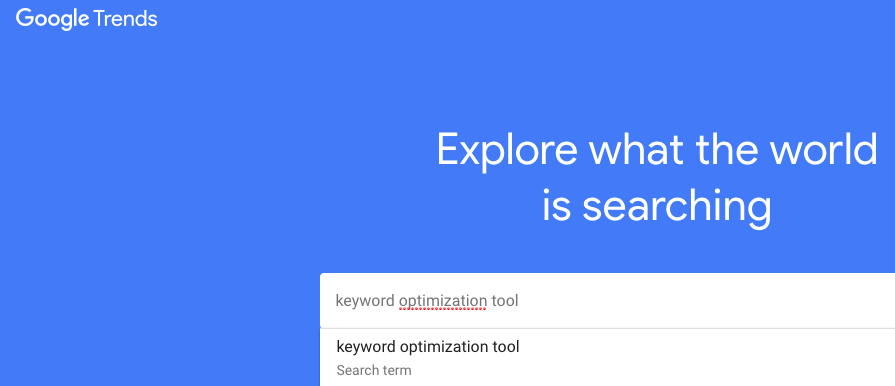 There are two ways to use Google Trends for keyword research:
First, you can search for a specific keyword.
Or second, you can take a look at the related topics and queries section.

Semrush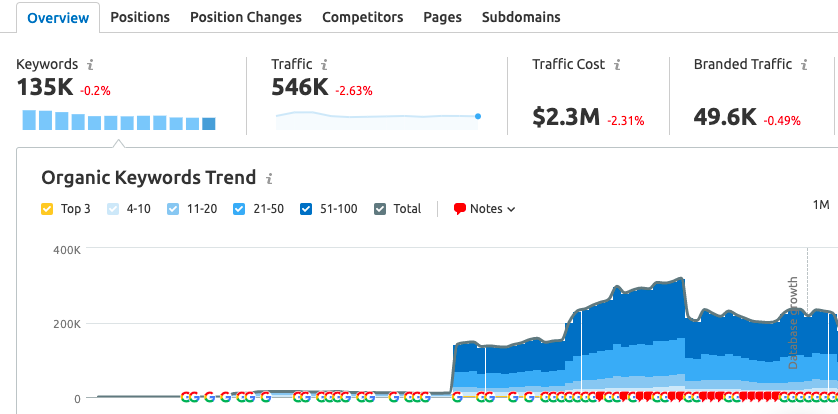 Semrush is different to the other keyword optimization tools I've shown you so far.
Instead of entering a keyword and getting a long list of keyword ideas, Semrush shows you keywords that your competition already ranks for.
These are usually alternative keywords that you probably wouldn't ever think of yourself.
If you see a domain with a lot of organic search traffic but a low Traffic Cost, you know that they're ranking for keywords that don't convert into buyers.
But the real value of Semrush comes from the organic keywords data: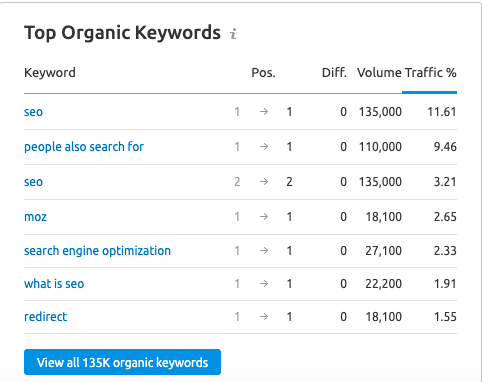 You can also start your Semrush search with a keyword instead of a competitor's site.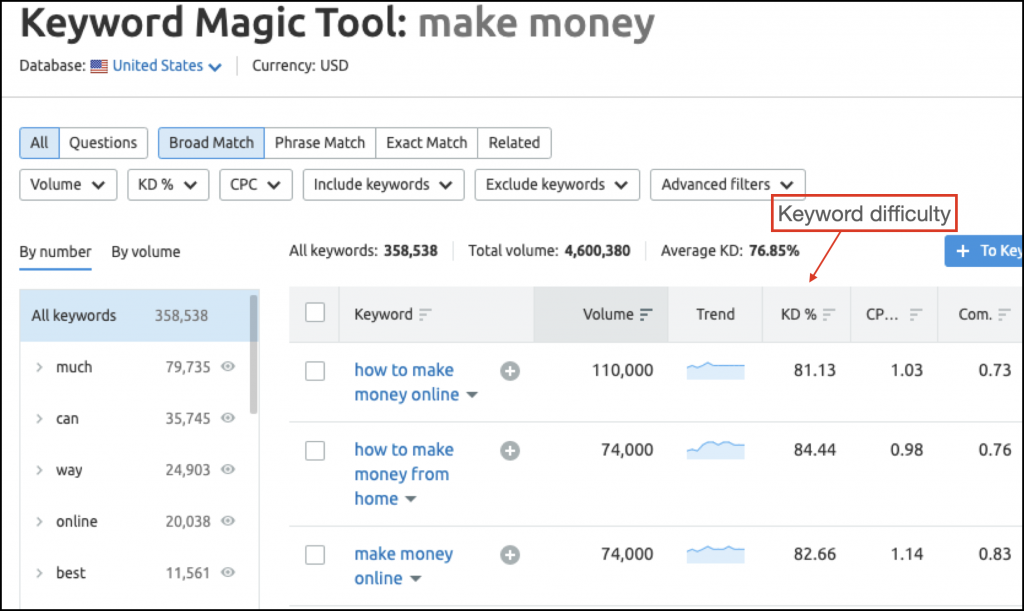 Keyword difficulty is the stand out metric. It goes from 1 to 100% and tells you how hard it would be to outrank Google's top 20 Serps for a keyword.
KWFinder

Another decent keyword optimization tool that's easy to use.
It has a lot of the same features as other tools, but unlike most other tools, KWFinder is easy to use.
Similar setup to Moz, where you enter a keyword and then they provided you with the usual metric including a score for keyword difficulty. They say this is calculated from the link profile strength of the top results pages.
Serpstat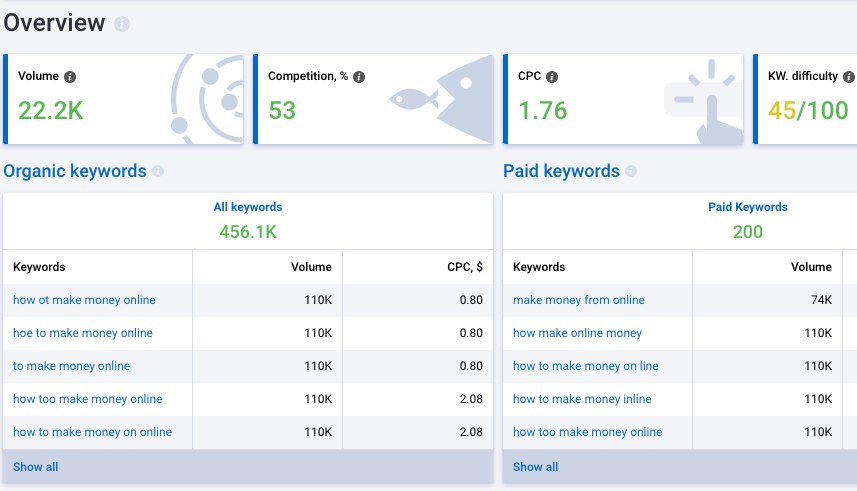 They won't let you start a search until you've accepted the small cookies option at the bottom of the screen, which is not immediately noticeable, but once you do, you're good to go. Here's another one with a keyword difficulty score.
The competitor graphs are cool and let you visualize the sites that are competing for a given keyword (and related terms).
So if you see big bubbles for Wikipedia or Amazon it's probably time to look for a different keyword.
Wordtracker

Not another keyword research tool I hear you say. Wordtracker uses proprietary data and toolsets to provide over 10,000 keywords per search as well as related keywords, so your pages can be optimized more effectively to outrank the competition.
I struggle to see how this has any unique selling proposition though.