Where should you begin your keyword search in Google Analytics?
Google Analytics is a must-have tool for tracking your website's performance.
With Google Analytics, you can monitor traffic across individual web pages and grab insight into visitor behavior, set marketing and conversion goals, compare new vs. returning visitors, and traffic sources.
For me, it's where I always begin my keyword search in Google Analytics.
It is in the Traffic Sources tab that you can find out which keywords people are using to find your site. This is important information because the more you know about the keywords that are used to find your different web pages, the more you can optimize your site and boost conversions.
Follow these simple steps within Google Analytics to find out which keywords people used to find your website.
NB: You must have already set up at least one goal in Google Analytics so you'll have some conversion data. You can learn how to do that here.

Log into your

Google Analytics account

Navigate to Acquisition | All Traffic | Source/ Medium

Click on the Keywords tab

Select a date range in the top right-hand corner of at least 3 months long

Click on the Goal Set tab in the main body area, this will display all of the goals that you've set up

Sort the Goal column to display the goal conversion percentage from highest to lowest

At the bottom of the page, select to show at least 100 rows
The problem with keyword search in Google Analytics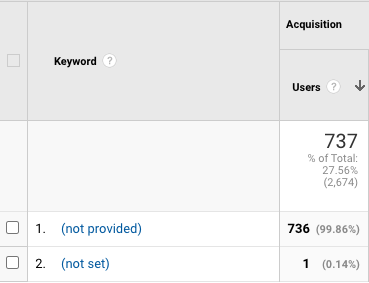 Once you access this filter view on Google Analytics you might notice a problem.
The only keyword showing up is (not provided) and (not set).
What does 'not provided' mean?
Google Analytics gradually started to remove keyword data, replacing it with "not provided" as far back as 2011. Google decided it no longer wanted to give you access to the priceless keywords. The person did use a keyword(s), but in the interest of protecting the "privacy" of the searcher, these are no longer visible to GA users.
However, there is a way to get these keywords back.
How to see keywords in google analytics?
I was sick of Google hiding more keywords year after year, so I decided to find a solution. I teamed up with a group of data scientists from the Fraunhofer Institute of Technology and thought about it as a data science problem.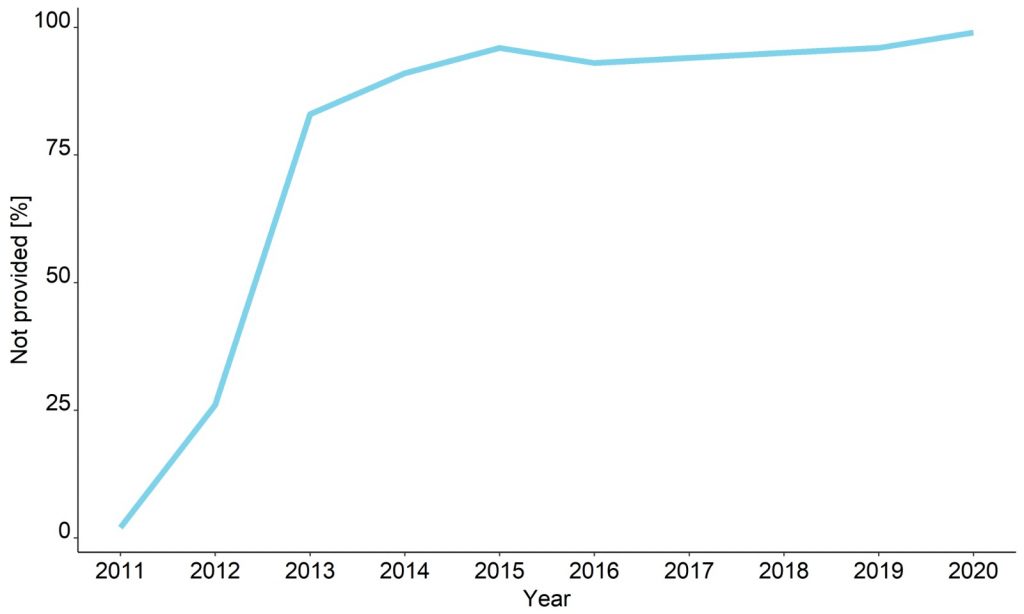 Because that's what it is.
Processing this 'not provided' data would have worked back in 2011.
But working with extremely large datasets was impossible at the time.
Just uploading the information back into customers' accounts would take a day on X1 Instances, Amazon Web Services. And it would have cost a small fortune.
However, with advancements in data processing power, we figured out how to reverse engineer these keywords back, with an 83% certainty.
Or read more about how we did it here.
Once you are up and running, a new Keyword Hero view will be available on Google Analytics.
And, you'll be delighted to see these keywords return.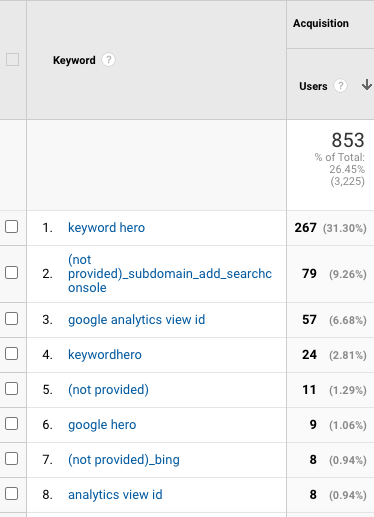 Easy to rank keywords
Once you reclaim your keyword search in Google Analytics you will be able to optimize keyword performance in eight ways:
Understand conversion keywords

Find out keywords for quick wins

Access keyword performance across devices

Stop ranking cannibalism

Analyze long-tail keywords

Build better content

Adjust to Google's algorithm updates

Detect and monitor brand keywords
Read in detail about the 8 things you can do once you have full transparency into keyword search in Google Analytics.