An SEO Dashboard is an SEO analytics report that provides a glimpse into what's currently going on with your website.
The dashboard contains a set of widgets that displays excerpts from the most valuable and widely used performance metrics.
A data dashboard is an information management tool that visually tracks, analyzes and displays key performance indicators (KPI), metrics and key data points to monitor the health of marketing efforts and SEO initiatives.
They are customizable to meet the specific needs of a department and or company.
The status of an SEO strategy can't be evaluated by analyzing the performance of just one metric.
You will need to track a combination of key performance indicators (KPIs) to know how well your SEO strategy is doing.
An SEO dashboard should at a minimum track important marketing KPIs like conversions, Serp position, keyword performance, etc. This way, you can focus on maximizing your ROI for SEO.
Why do I need an SEO dashboard?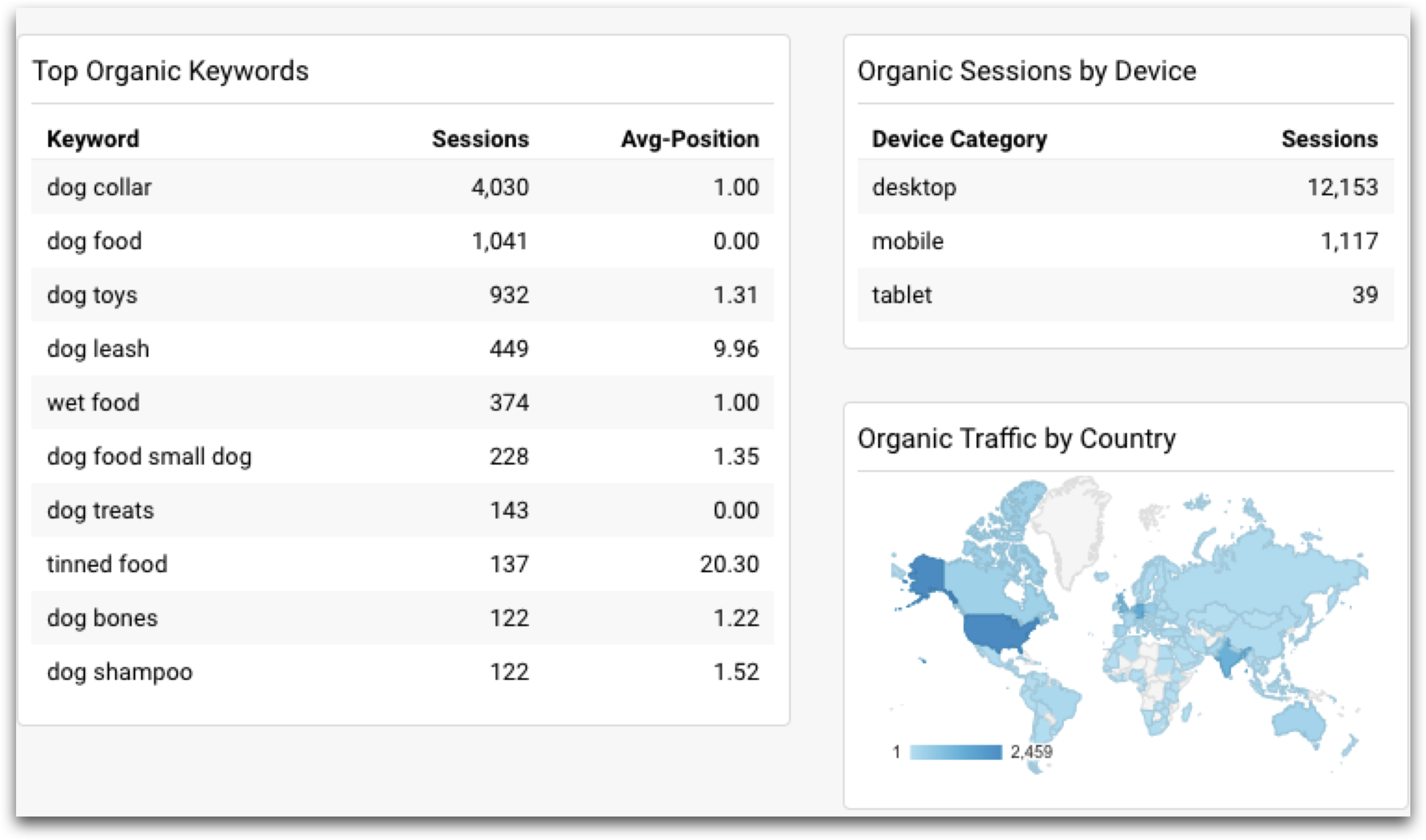 When you can scan each relevant KPI with one comprehensive view, you can access where your campaign needs improvement. An effective SEO dashboard will track all key performance metrics including organic keywords.
SEO can be complicated to explain to management teams and clients with no background in SEO.
There is a lot of jargon and new concepts to understand, which can seem daunting to someone who isn't familiar with SEO.
This is why it's so important to show clients and management teams what your strategy is doing for their business in a clear and simple way.
What's the difference between a report and a dashboard?
Both reports and dashboards are used to communicate data and information. However, where dashboards provide quick overview, reports are usually more complex and comprehensive.

A dashboard, which can be displayed to your team in real-time, is useful for daily operations.
In contrast, a report, which can be presented monthly, quarterly, or yearly, is more useful in planning future operations and seeing an overview of the business.
If a dashboard is like your car's actual dashboard (showing your speed, mileage, and the amount of gas you have left) a report is like your annual car maintenance check-up (showing the condition of your brake pads and tires.
What is an SEO reporting dashboard?
A reporting dashboard is one part report and one part dashboard.
It looks like a dashboard with graphs and charts updated with your data, however, there are also reporting features like static widgets to add comments, sections, and custom numbers.
As such, it tracks all of your data like a dashboard but you can customize it with notes, benchmarks, and explanations for management, colleagues, or clients.
An SEO reporting dashboard is a marketing dashboard for tracking SEO efforts from keywords, organic traffic, Serp, position, and much more.
With an automated report, you can automatically pull data from all your different SEO platforms (Google Analytics, Google Search Console, Keyword Hero, Ahrefs, On-page Hero.).
Your SEO reporting dashboard can contain several widgets, each displaying different metrics and KPIs to highlight your SEO performance and campaigns.
The best SEO reporting dashboard would be a custom dashboard created with an SEO reporting tool, including data that's well separated in easy-to-read sections.