SEO professionals that have been in the business since 2011 will remember the days when all Google Analytics organic search terms were visible.
Most Google Analytics users will now see 99%+ keywords blocked as (not provided).
It was shocking to the community when this happened first.
However, with far greater data processing powers compared with six years ago,
And the use of a deep learning algorithm SEOs can unblock (not provided).
I explained previously how we do this in seven steps.
Once you have gained access to the data and engineered around it, you can tap into a well of invaluable information such as tracking organic keyword conversions in Google Analytics.
8 benefits of unblocking Google Analytics organic search terms
Once you get all keywords back in Google Analytics your view will look something like this:

With the percentage of (not provided) down to less than 2% you can activate eight effective new actions.
1. Understand conversion keywords
The overarching goal of SEO initiatives is to increase conversions.
To achieve that you need traffic. More traffic = more conversions (as long as its keyword targeted traffic)
Setting traffic as a goal is important.
However, learning how to track keyword conversions is more important.
Finding the organic keywords that result in the most conversions is probably the single most valuable piece of information for digital marketers. After all, this is the metric that will be used to evaluate overall SEO performance.
First, on Google Analytics go to Acquisition | Overview | Organic Search.
You can sort the table by clicking on a title at the top of the column.
In our example, we chose the number of sales (goal completions.)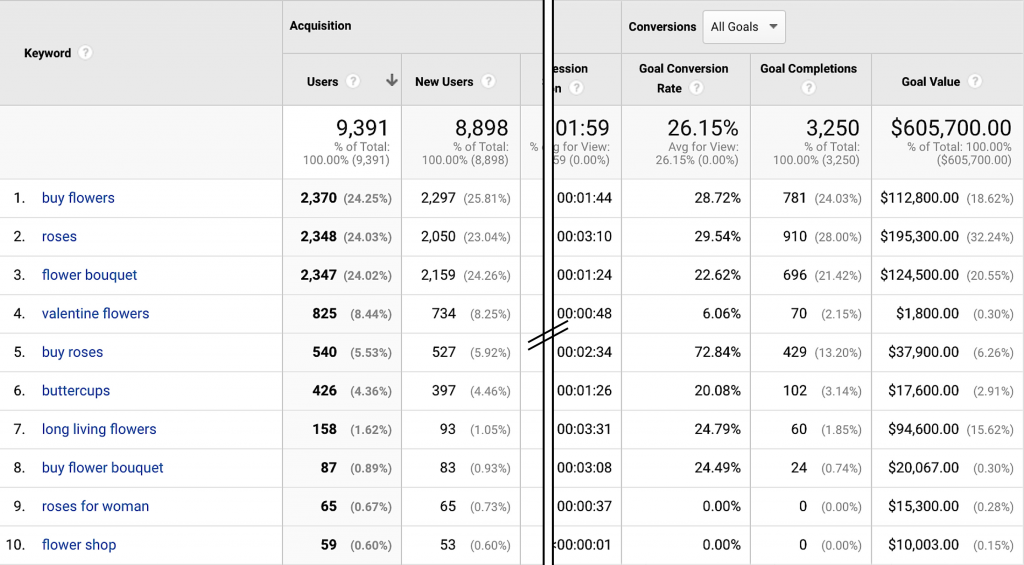 Transactional search phrases like 'buy' are more likely to have higher conversion rates when compared to search phrases like roses for women that are more information. Of the eight keywords that resulted in a sales in the above screenshot, three had the prefix 'buy'.
The second thing we can see is that the phrase 'Bouquet' is prevalent among our keywords.
And comes with a good conversion rate and order value.
People looking specifically for a flower bouquet, spend more than people searching with more general search terms like flower shop.
Knowing that conversion rates of different keywords means we can then optimize our webpages to cater more to users that are looking for bouquets, instead of having them waste time browsing.
This will result in more of qualified traffic and higher conversion rates, once conversion keywords used.
If you are trying to track your conversion keywords and there is too little conversion data available, this type of analysis is not possible or doesn't make that much sense for you.
If this is the case, you need to use different metrics:
Create goals in Google Analytics
If your are the SEO manager of an e-commerce shop but you have too little sales to analyze, a good way to get more data is by setting up goals in Google Analytics.
Instead of only looking at the final sale, you could define funnel conversion goals such as 'added to basket'.
Almost always this will result in more data and makes it easier for keyword optimization.
Google Analytics behavior metrics
If you haven't enough sessions on your site to create a meaningful goals or sales, behavioral metrics such as bounce rate or time on site can be useful to monitor.
These will often align with goals and sales and can provide insights into whether users are satisified.
Even a little bit of data is enough to benefit from using behavioral metrics to recognize trends in individual keywords.
2. Quick win keywords
Keyword Hero allows you to use a custom dimension called Position to view Serp positions for each keyword.
This is the position for each session so that a keyword can have multiple positions.
If the keyword is in position 1, the session was triggered, when your link was at the top of the Serps.
The top three positions get 18.09% of all search potential for the keyword.
To find your keywords that are close to being on page 1 of Google, you can use the Keyword Hero custom Position dimension.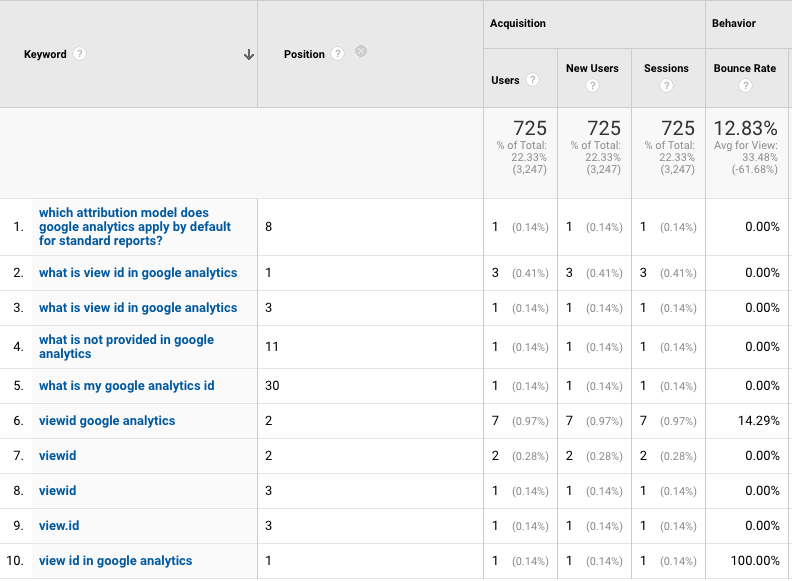 Look out for keywords that rank from positions 11 – 16.
Using keyword optimization tools to enhance these keywords, will have an impact on traffic and conversions.
3. Track keyword performance across devices
People tend use different search terms on mobile versus desktop.
To find out how many sessions you get from certain keywords, click on a keyword in the keyword view and add the secondary dimension 'Device Category'.
You can now see all behavioral and transactional metrics split by device:
The easiest way is to install our "mobile vs. desktop" dashboard.
If you want to do it yourself and see your rankings split by device, click on a single keyword.
Now add a segment by clicking on 'Add Segment' above the keyword table.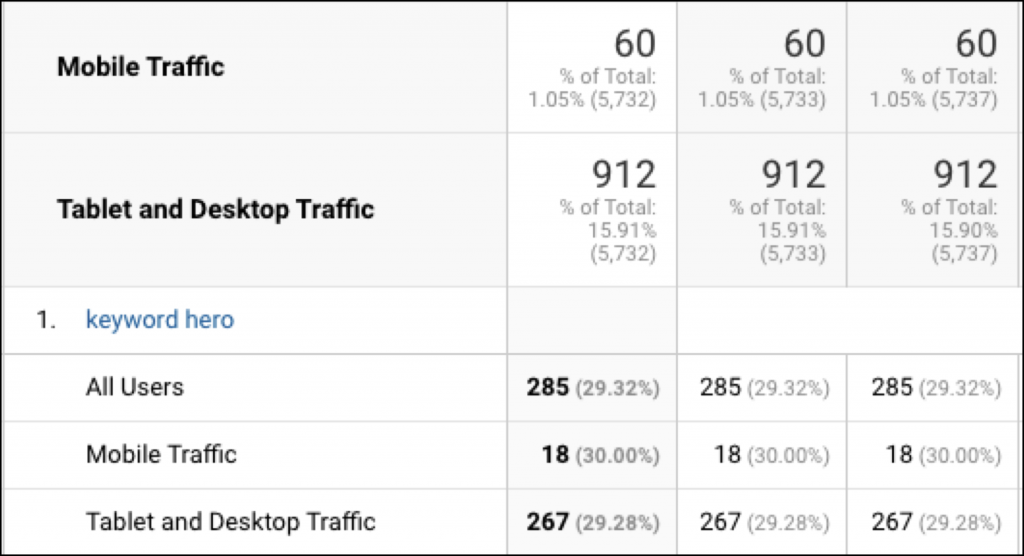 Then search for Mobile Traffic and select it.
Now add another segment and look for Tablet and Desktop Traffic.
You now have your rankings split by devices and you can see how many sessions you're pulling in from each device category.
This is only possible once (not provided) organic keywords are visible again in GA.
4. Stop ranking cannibalism
Often you will rank with several landing pages for Google Analytics organic search terms.
Likely, there will be significant differences in how those pages appeal to users coming with the same search intent.
The idea is to funnel traffic from a specific keyword to those pages that have the best metrics.
To find out, which Urls rank for a particular keyword, click on any keyword in the keyword view, preferably the one with the most organic traffic.
Now, add 'landing page' as the secondary dimension.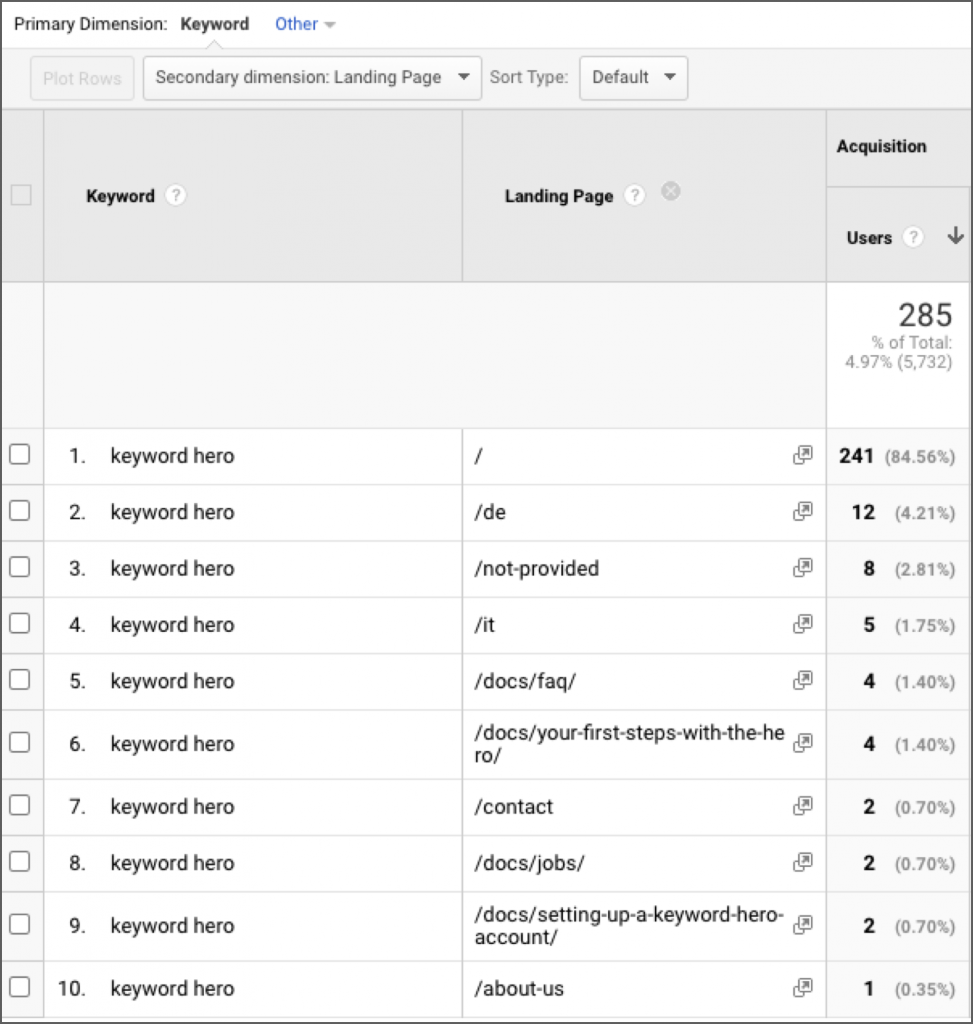 What you see now is a single keyword and the 10 (!) Urls that Google considers relevant for this query.
About 84% of the sessions, triggered by the keyword: Keyword Hero, land on our homepage.
The other 16% are spread across the nine remaining Urls.
Comparing the behavioral metrics such as time on site and bounce rates of the Urls will give you an idea whether user intent matches page content.
It could be the case that you need to differentiate the other landing pages more, so that the homepage pulls in most of the traffic.
5. Analyze long-tail keywords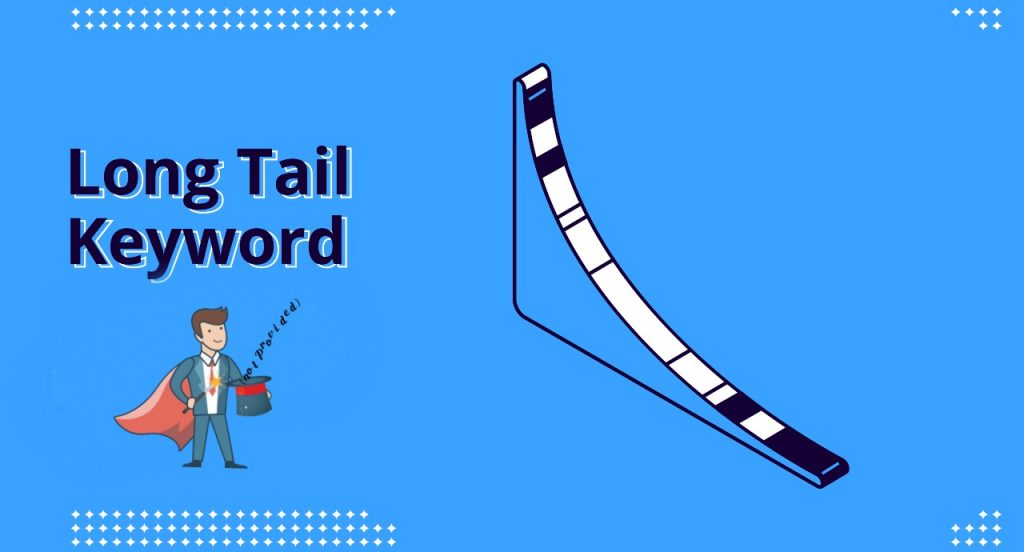 Focusing on long-tail keywords is a great way to build better campaigns.
These keywords find the searcher in the right stage of the buying cycle or search funnel.
One of the benefits of revealing is the ability to see long-tail keywords in Google Analytics again.
70% of all website traffic comes from long-tail keywords.
With Keyword Hero, you can target these keywords instead of competing for a difficult keyword against more established websites.
With these niche keywords, it's also easier to match the intent of the searcher.
Thus it's more clear what they are looking for when using a search term.
For example, a searcher who uses the keyword 'runners' might be looking to buy running shoes, research famous athletes, or find general information about running shoes.
But if a searcher uses the phrase 'buy mens running shoes for rainy weather,' it's a safer bet to assume they are looking to make a purchase.
6. Build better content
You might be getting a few hundred views on the articles you publish.
But are the hits due to keyword optimization?
Here's where Keyword Hero comes in.
When you can see which keywords do well for your site, you can tweak your content strategy for better SEO results.
Instead of writing articles about famous athletes, you could hone in on the search intent of somebody looking for runners that have good grip or are waterproof, based on the keywords they are using to find your article.
There is little point in writing articles just for the sake of it.
7. Adjust to Google's algorithm updates
Google runs countless search algorithm tests every year.
This will affect your keywords.
Going blind without knowing these keywords doesn't mean you won't still get thousands of visitors per day.
However, it might not be qualified traffic.
Keyword Hero enables you to adjust your keyword strategy according to Google's Algorithm Updates.
You don't have to worry anymore about Google Panda, Hummingbird nor Penguin. Or any other algorithm changes.
8. Detect and monitor brand keywords
Brand keywords are keywords with your brand name in them.
These are different from non-brand keywords which are keywords that do not relate to your brand.
Let's look at a couple of examples:
Nike Flyknit Shoes
This is a brand keyword for Nike.
Notice that brand keywords can contain more than one keyword.
Let's say a store called FastShoes.com sells these.
'FastShoes' is a brand keyword. 'Nike Flyknit Shoes' is not because this keyword relates to another brand.
'FastShoes Flyknit' would count as a brand keyword. Notice that 'Flyknit' on its own is only ever a brand keyword for Nike.
Identifying how brand keywords are performing is important for the following reasons:
Maintaining brand authority

Maximizing conversions: brand keywords are typically high traffic, high converting. Make sure you occupy the number one spot in the Serps

Optimizing brand keyword performance: as your keyword set grows, it becomes harder to keep track of how they are performing

Identifying gaps: make sure all your brand keywords are satisfying user intent by analyzing user behavior at a keyword level.