If your website uses an SSL certificate and is accessible as "HTTPS" you should set up an "HTTPS" version of your page in the search console.
In the official Google documentation you can find the following about this:
Add the HTTPS property to Search Console; Search Console treats HTTP and HTTPS separately; data for these properties is not shared in Search Console. So if you have pages in both protocols, you must have a separate Search Console property for each one.
If you have changed your website from HTTP to HTTPS, but do not have an HTTPS Search Console version of the page please create one.
Make both versions available to the Keyword Hero
For the Keyword Hero to work properly, he requires access to both Search Console accounts (HTTP and HTTPS). You also have to make sure that both versions are accessible through the Google account, to which you granted the Hero access.
You can check this by logging into the Search Console account: in case you will see both versions in one account, you're good to go.
The versions are in different Google Accounts
If the HTTP and HTTPS version of the page is in different Search Console accounts, you should give one of these accounts access to both versions.
Log into the Search Console account from which you want to make the version accessible.
Locate the affected page and click 'Manage Property' next to the page.

Choose 'Add or remove users'.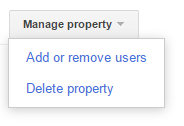 You can now see a list of all Google Accounts that have access to this Search Console Property. On top of the 'Add a new user'-button, add the Google Account in which the other version of the page can be found as a user.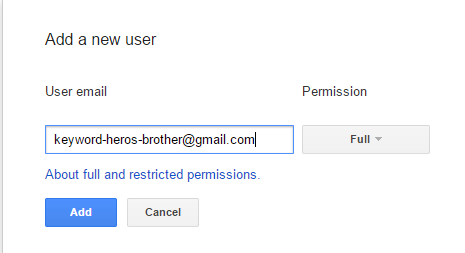 This account (in our example keyword-heros-brother@gmail.com) should now be shared with the Keyword Hero.