This article is for Keyword Hero projects that are configured for Google Analytics 4. For GA3 projects, please use this article instead.
---
This post will show you how to use Keyword Hero to automatically detect brand keywords and leverage insights such as how they rank and how users behave at a keyword level.
What are Brand Keywords?
Brand keywords are keywords that relate to your brand.
This may sound obvious but this does actually cause some confusion.
These are different to non-brand keywords which are keywords that do not relate to your brand.
Let's look at a couple of examples:
Nike Flyknit Shoes
This is a brand keyword for Nike. Notice that brand keyword can actually contain more than one keyword.
Let's say a store called AsteriskShoes.com stocks these shoes. "AsteriskShoes" is a brand keyword.
"Nike Flyknit Shoes" is not because this keyword relates to another brand, namely Nike.
"Asterisk Shoes Flyknit" would count as a brand keyword. Notice that "Flyknit" on its own is only ever a brand keyword for Nike.
Why Are Brand Keywords Important?
Brand keywords are keywords that relate to your brand. They are usually a major driver of organic traffic. When users search on Google for your brand or one of the products associated with your brand, they want to be taken to the landing page where they can either find out more about that product or make a purchase.
Identifying how brand keywords are performing is important for the following reasons:
Maintaining brand authority

Maximizing conversions: brand keywords are typically high traffic, high converting. Make sure you occupy the number one spot in the SERPs.

Optimizing brand keyword performance: as your keyword set grows, it becomes harder to keep track of how they are performing.

Identifying gaps: make sure all your brand keywords are satisfying user intent by analyzing user behavior at a keyword level.
How Can I Identify Brand Keywords?
The good news?
Keyword Hero does this for you automatically.
Using clever natural language processing and a little bit of magic, Keyword Hero sorts through all your organic keywords and detects the ones that are related to your brand.
This is a massive time saver.
Adding and Removing Brand Keywords Manually
Not everyone is perfect, not even Keyword Hero. If Keyword Hero fails to detect one of your brand keywords, then you can add it manually.
To do this, head over to your Keyword Hero account and log in. Click on the settings icon and then select brand keywords.
Next, simply type in the keywords you wish to add as brand keywords.
You can enter more than one at the same time by separating them with commas, semicolons or new lines.
Equally, if you wish to remove any of the brand keywords, you can simply enter them in the "Remove Keywords from Brand" box below.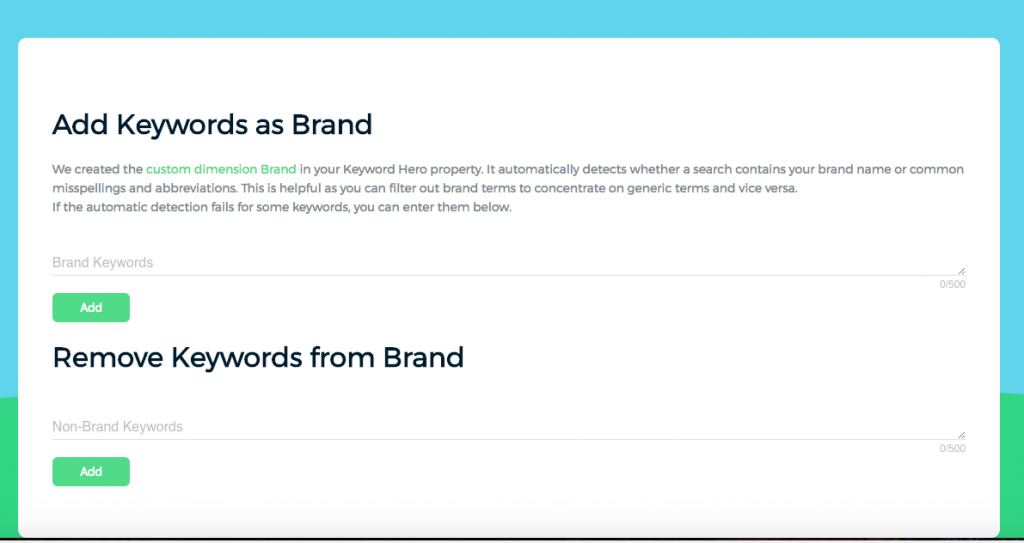 Note: your newly added brand keywords may not show up immediately.
Brand Keywords as Custom Dimension in Google Analytics
Keyword Hero has created special custom dimensions for Google Analytics that increase its functionality.
This includes Brand. When you select Brand as a secondary dimension, then you can always see whether Keyword Hero has classified a particular keyword as brand or non-brand.
To get started, log into Keyword Hero and click on the "View Analytics" link to get to the relevant Keyword Hero property in Google Analytics 4.
Then, click on the "landing_page" dimension so that you can change the secondary dimension.

If you don't see "landing_page" then look for a "+" sign.

Once you've clicked on it, you'll see a dialog box. Go ahead and type, "brand_classification" and then select it.

You will now see all your organic keywords filtered by brand or non-brand.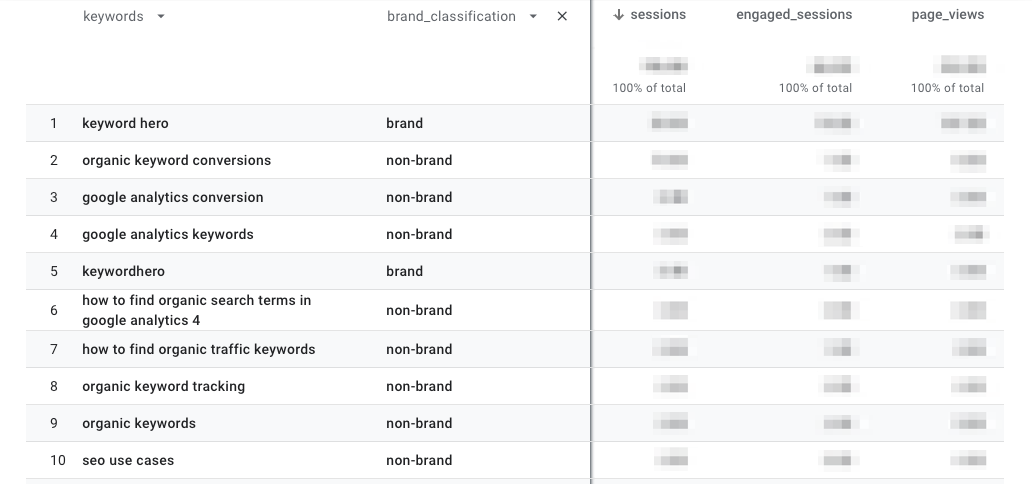 If you want to only see your brand keywords, you can apply filters.
Brand Keywords Segmented by Landing Page
In this example, we will segment brand keywords by landing page. The aim is to ensure that all of our brand keywords are actually ranking for the landing page that matches the user's intent.
For instance, when a user Googles "nike flyknit shoes", then they want to be taken to a product landing page for that model of running shoe. If instead, they are landing somewhere else, it may cause your bounce rate to spike as this clearly does not match the user intent.
To look at landing pages for a specific keyword, you'll need to use filters and choose the relevant keyword.
Remember to assign the following filters
medium –> organic
source –> google
keywords –> your chosen keyword
And then click on the Apply button.

Next, you'll want to set the "landing_page" as the the secondary dimension.
Simply click on the "+" sign.

Next, type "landing_page" in the query box and select it.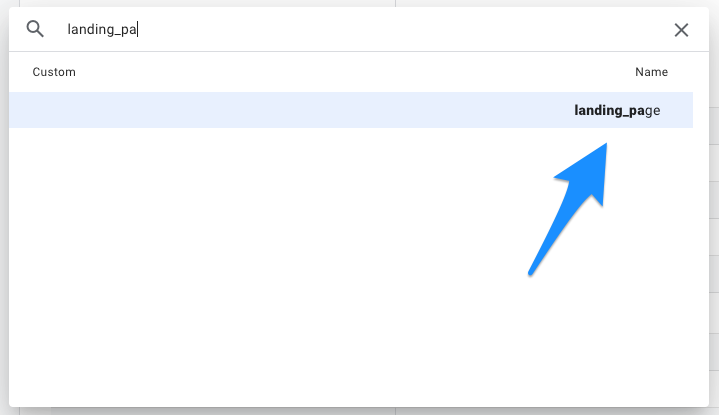 You'll now see how your individual landing pages perform for the same keyword.

In the example above, you're able to see performance per landing page for our branded query, "keyword hero".
Pretty nifty, huh?
Using this technique, you can address issues such as a spike in bounce rate on a page-by-page basis.
Taking this one step further you can segment your data by country, device type, and more.
Get started with brand keywords today.