Our free plan is great to start working with Keyword Hero and accommodates small to medium sized sites.
However, the paid plans offer some very important features, such as conversion tracking and many keyword intelligence features.
If you have decided to upgrade your plan, you will want to have the right size.
We usually suggest the "Best Option" on the pricing page.
Check how many monthly sessions your site has
If you want to find the perfect plan for yourself, have a quick look at your
Google Analytics account and check how many monthly sessions your website has.
Login to your Google Analytics account.
Set the time span to a full month with a lot of traffic.
Navigate to Acquisition > Overview. Select "Organic Search".
Now, in the table, look for the value for "Sessions".In our example we have 3,165 sessions.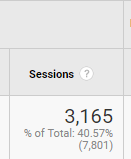 Choose the best plan
Now you can derive the best plan – just look up the number of sessions in the
overview of our plans.

If the number of sessions does not fit to the same plan, you may choose the bigger plan to be sure, not to lose any information.
If your number of sessions/month exceeds the limits of our "Ultimate Hero", you may need one of our "Pro" plans.
You may then contact us for an individual quote.
In our example from above, you should choose the "Giant Hero" (50,000 Sessions/month) to cover all sessions.
Upgrade your Keyword Hero plan
After you figured out what the perfect plan for your domain is, you can upgrade Keyword Hero, so you will get keywords for all your URLs and other important features such as conversion and goal tracking.
Go to your Keyword Hero profile.
Click on the gear icon next to the domain you'd like to upgrade.
Select "Change Settings".
Go to step 4.
Select whatever plan you want.
Click "Save".
FAQs
What are the paid features?
Apart from seeing keywords for more than just 2,000 monthly sessions, you get conversion and goal tracking in the paid plans and access to new keyword intelligence features.
Will all upgrade messages disappear?
Unfortunately, we can't alter any data retrospectively. This means that only keywords going forward will become visible.
Can I cancel anytime?
Yes, just go back to your step 4, and select the free plan.