Our free plan is great to start working with Keyword Hero and accommodates even medium sized sites easily. However, the paid plans offer some very important features, such as conversion tracking and many keyword intelligence features.
If you have decided to upgrade your plan, you will want to have the right size. We usually suggest the "Best Option" on the pricing page.
Check how many URLs have organic traffic
If you want to find the perfect plan for yourself, have a quick look at your Google Analytics account and check how many URLs generate organic traffic per day:
Log into your Analytics account.
Choose a date where lots of organic traffic occurred (just one day).
Navigate to Acquisition > Overview. Select "Organic Search".
Above the keyword table, select "Landing Page" as the primary dimension.
Scroll down, towards the lower right corner. You see the total number of rows, which equal the number of URLs that generated organic traffic this day. In our example: 394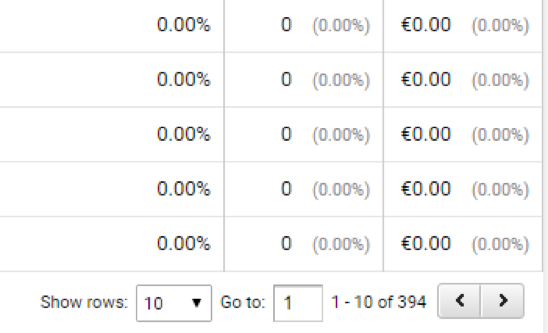 In this example, our customer should the choose the "Giant Hero" that will analyze up to 1000 URLs per day.
Upgrade your Keyword Hero plan
After you figured out what the perfect plan for your domain is, you can upgrade Keyword Hero, so you will get keywords for all your URLs and other important features such as conversion and goal tracking.
Go to your Keyword Hero profile.
Click on the gear icon next to the domain you'd like to upgrade.
Select "Change Settings".
Go to step 4.
Select whatever plan you want.
Click "Save".
FAQs
What are the paid features?
Apart from seeing keywords for more than just your daily most visited 25 URLs, you get conversion and goal tracking in the paid plans and access to new keyword intelligence features such as clustering.
Will all upgrade messages disappear?
Unfortunately, we cant alter any data retrospectively. This means that only keywords going forward will become visible.
Can I cancel anytime?
Yes, just go back to your step 4, and select the free plan.