There is an infinite number of use cases for Keyword Hero's data and which ones apply to you, very much depends on your business goals. We try and collect the most important use cases. We're always happy to hear what your top applications are, so drop us a line if you have something that you don't see here.
How to get to the "Keyword View":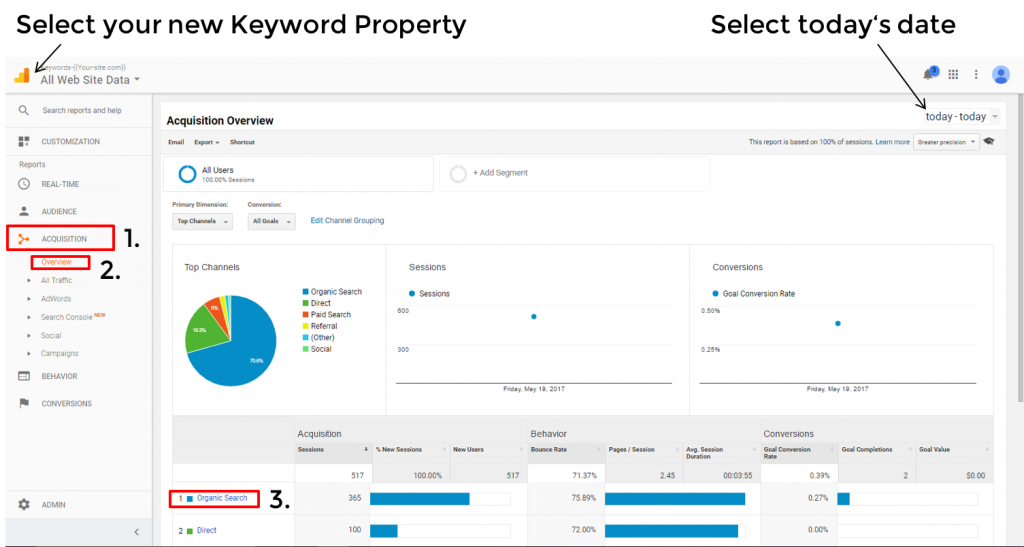 ---
Conversion and Goal tracking are only available in paid plans. Upgrade here.

There is a big difference between keywords that make you money or sales and those that only drive traffic. Soley focusing on keywords that bring traffic is not a great strategy if you eventually want to make more sales.
To see your "money keywords" set up a goal or conversion tracking first. Once you did that, the Hero will start mapping your conversions with the right keywords. You'll see which keywords made you money in the keyword view. By sorting by Goal completions or transactions, you'll see your top performers.
Equipped with that knowledge, you'll have a much easier time both measuring your SEO efforts as well as increasing your most important goals or transactions.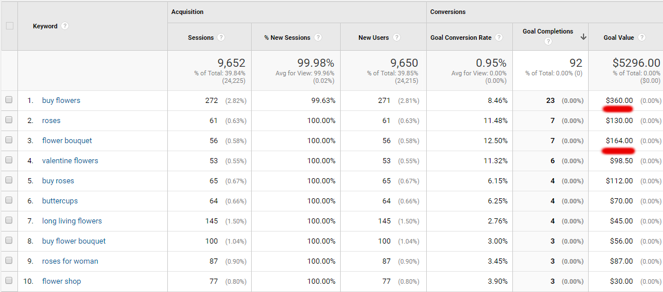 ---
Discovering "quick-win keywords"
Keyword Hero creates the custom dimension Position, which conveys the position of a keyword in Google's SERPs (= Search Engine Result Page).
It's the position for each session so that a keyword can have many positions. If it is in position 1, the session was triggered, when your link was on the very top of Google's first result page. If a keyword has the position 10, it's at the very bottom of Google's first page. Position 11 would be the top of Google's second result page.
The difference in traffic between position 10 and 11 can be massive: we often see increases of 10x!
To find those keywords that are close to being on page 1 of Google, click on the secondary dimension box and select "Position".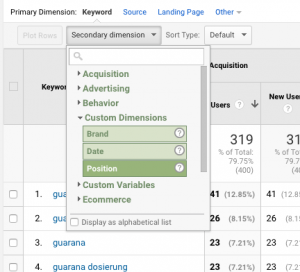 Now you can order the table by clicking on the Position column. Look out for keywords that have both excellent transactional (e.g. sales) or behavioral metrics (e.g. time on site) and are ranking on position 11 – 14. Focusing just a little more on those keywords, i.e. by writing more relevant content, will have a massive impact on your sessions and sales.
Alternatively, you can also install the "Quick Win Dashboard" here.
---
Keyword performance across devices
Keyword metrics across device categories
It is important to understand how your keywords perform depending on the device category that is used.
To find out how many sessions you get from certain keywords, click on a keyword in the keyword view and add the secondary dimension "Device Category". You can now see all behavioral and transactional metrics split by device:

Keyword rankings across device categories
The easiest way is to install our "mobile vs. desktop" dashboard. If you want to do it yourself and see your rankings split by device, click on a single keyword. Now add a segment by clicking on "Add Segment" above the keyword table. Then search for Mobile Traffic and select it. Now add another segment and look for Tablet and Desktop Traffic.
Now you have your rankings split by devices and you can see how many sessions you're pulling in from each device category.
---
Ranking cannibalism
Sometimes you're ranking with several landing pages for a specific keyword or keyword set. Likely, there will be significant differences in how those pages appeal to users coming with the same search intent. The idea is to funnel traffic from a specific keyword to those pages that have the best metrics.
To find out, which URLs rank for a particular keyword, click on any keyword in the keyword view, preferably the one with the most organic traffic. Now, add landing page as the secondary dimension.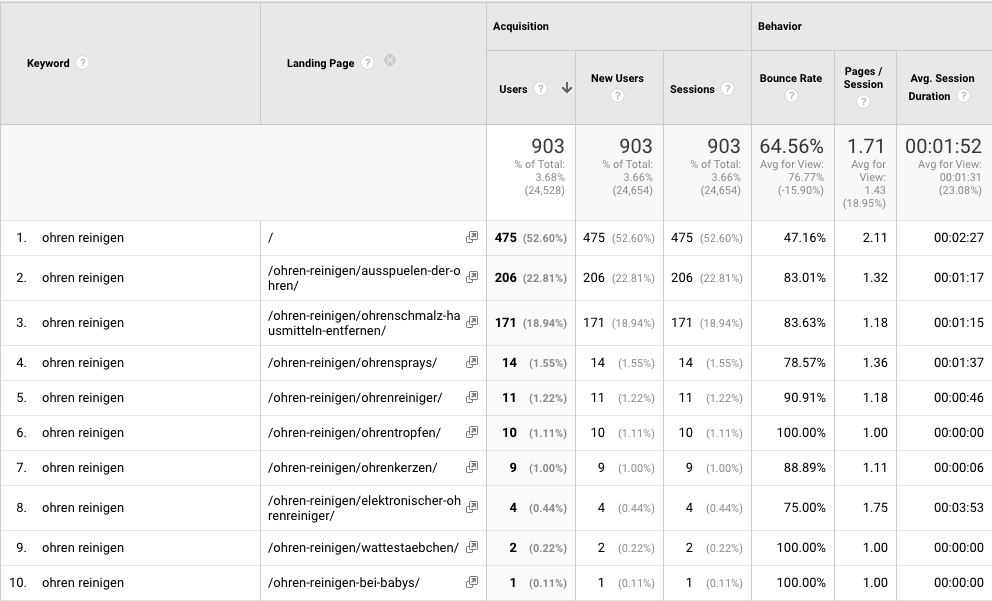 What you see now is a single keyword and the 10 (!) URLs that Google considers relevant for this query. About half (52%) of the sessions triggered by the keyword land on the homepage. The other 47% spread across the nine remaining URLs.
Comparing the behavioral metrics such as time on site and bounce rates of the URLs, it's obvious that only the homepage has acceptable metrics. The other nine sites don't seem to fulfill the user intent and have bounce rates
In this case, we should consider differentiating the other landing pages more, so that the homepage will pull in most of the traffic for this keyword.